Darra Rathbun Keeton, Rice professor emeritus of painting and drawing, died Aug. 28. She was 73.
Keeton was born in Washington, D.C., and lived much of her life in Houston and New York City, working as an artist and award-winning educator. She received her Bachelor of Fine Arts degree from Miami University in Oxford, Ohio, in 1974 and her master's degree in painting from Queens College, City University of New York in 1979.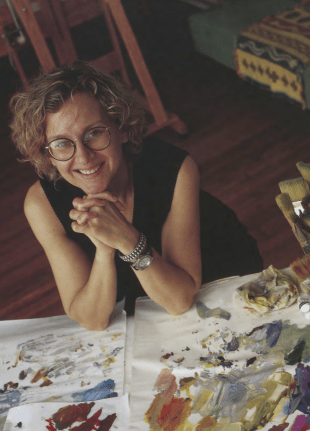 A talented artist from the beginning of her career, Keeton also studied at the New York Studio School of Drawing and Painting before her first solo show in 1980: an exhibition of paintings and drawings at the University of Manchester in England. Keeton taught at the University of Manchester and the University of Sheffield between 1980 and 1982, spending the winters teaching while working as a guest lecturer and visiting artist at universities across England.
Keeton joined Rice's former Department of Art and Art History in 1993 as a visiting artist in residence. She was appointed assistant professor of studio art and painting the following year and was promoted to associate professor in 1999. She retired in 2012.
During her 19 years at Rice, Keeton was both a beloved professor and an active artist — in Houston and beyond. She was the recipient of numerous teaching grants between 1994 and 2004 and the winner of Rice's Phi Beta Kappa Teaching Excellence Award (now called the Sophia Meyer Farb Prize for Teaching) in 1996. Upon her retirement, the department named and endowed a year-end prize in her honor: the Keeton Award in Drawing, first awarded in 2014.
Keeton's work was featured in group exhibitions in notable venues across the world, including The Brooklyn Museum, New York; Kunstlerhaus, Vienna; The Hyde Collection, New York; and Art in General, New York. In addition to Manchester, she had solo exhibitions in New York; New Orleans; Frankfurt, Germany; and Houston, where she kept a studio above the Lawndale Art and Performance Center.
"The afternoon sunsets here are very beautiful," Keeton said of Houston in a 1997 feature in Sallyport. "In New York they are too, but you have to see them through slices of buildings."
Keeton regularly took leave to return to New York, where she worked with an artist colony in Tribeca and was active with The New York State Council on the Arts and The Rockefeller Foundation, among other fellowships. She was also a regular fixture at Yaddo, one of the most distinguished artists' retreats in the country, in Saratoga Springs, New York. Included among its 440 acres of forests, lakes and rolling hills is a 127-year-old Tudor-style castle for guests to use as their own. There, Keeton was among those special artists selected as assistant to the colony's president, a privilege given to two residents each summer, and was responsible for welcoming guests to the legendary retreat.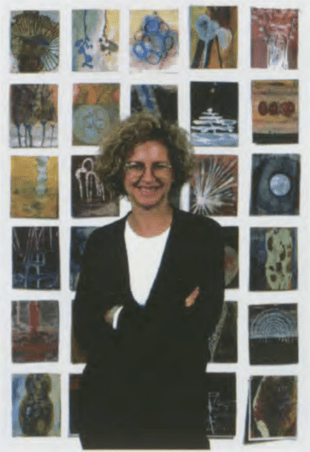 Keeton was diagnosed with Parkinson's disease in 2002 prior to her retirement from teaching and returned to Rice in 2013 with an exhibition titled "In My Nature: 30 Years of Work." It was accompanied by a film, "In My Nature: Art and Science/Painting and Parkinson's," which discussed her ongoing battle with the disease. She was the recipient of the Wynn Newhouse Award in 2006, an annual prize given to disabled artists in recognition of their artistic merit.
"Often, as people age, they regret they didn't have the life they had hoped for," Keeton told The Thresher in a 2013 preview of her retrospective at Rice. "I can say I've had a better life than I expected, although it's definitely been disrupted by traumatic events."
Keeton had once been worried, she confessed during that 2013 interview, that her work as an artist would be stifled and negatively impacted by going into teaching full time. And yet, to her surprise, she found that teaching enhanced her studio work, provided clearer goals and allowed her to offer herself the same gentleness and support she gave to her students.
"I hope people respond to my work for as long as it exists in the world, which I hope is long after I'm gone, in museums, private collections and Rice itself," she said.
"My goal is that people feel a connection to my work without knowing me personally. I also wanted to teach in a more positive and supportive, yet rigorous way than I experienced in grad school, which was very aggressive and didn't work for me. I wanted to be the conduit for the great undergraduate teachers that I did have, as I hope my students will be the conduit for me."
Keeton's vibrant work can still be seen at Rice, throughout the Humanities building and in the English graduate student lounge, her legacy as a renowned educator and artist present on campus in living color.
Memorial services are pending.