At 2 a.m. March 23, Rice Vice President for International Operations and IT Klara Jelinkova gave up on sleep and opened her email. It was the big day. The last three weeks were a blur, a rush of activity to equip, train and prepare for this day.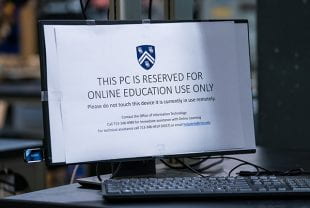 In a few hours, thousands of Rice faculty and students would log in to resume the spring semester online. Almost all were home, hunkered down to slow the spread of the COVID-19 pandemic. Some had never taught or taken an online course, and not all were experienced with the videoconferencing software. Two dozen members of her team in the Office of Information Technology (OIT) would be standing by their phones to answer questions.
Would it be enough?
It was.
On March 1, about 11,000 people lived or worked at Rice each day, and the university offered three courses online for credit. When Rice resumed classes March 23 after spring break, about 600 people were on campus and 1,906 courses were taught online for credit.
For most of the displaced, remote office and classroom technology simply worked. There were glitches, but no major failures. Things did not crash and burn. Rice's Help Desk was not overwhelmed with calls. The pandemic turned things upside down, and the university moved on. By March 25, Rice was hosting Zoom meetings for 20,000 people a day.
Staff from OIT, Rice Online Learning (ROL), the Center for Teaching Excellence (CTE) and many other offices worked hard to make it seem seamless.
"We started to ramp up the week of March 2, and then it became very, very intense in the two weeks leading up to the 23rd," Jelinkova said.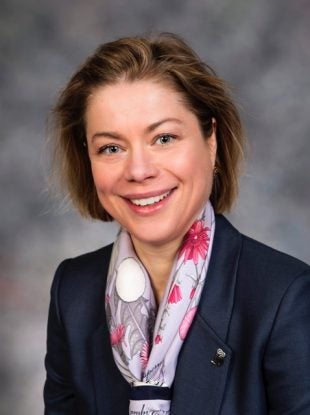 One of the early decisions that paid off big was settling on a streamlined set of three teaching and learning technologies that were already in use at Rice: Zoom, Canvas and Kaltura.
"We really looked at the different technologies and tried to streamline what we would be training faculty on," she said. "And it was also easier for the students, because now they were facing less change and interacting with primarily three technologies."
OIT also began assessing what technologies people would need to work and learn at home. For students, this meant a computer, the software to do their work and enough internet bandwidth for live video. The needs for many Rice staffers were similar, but some offices required more.
"We started to reach out to offices the week of March 2 to see what solutions we could bring to bear, especially for the externally facing offices like admissions, development and alumni affairs," Jelinkova said.
Everything had to come together in the two weeks that followed. Licenses were renegotiated so students could use eight software packages from home rather than solely on campus. OIT provisioned 350 on-campus computers so students could remotely access them. With the help of a donation by Rice Trustee Brian Patterson '84, OIT bought, set up and shipped 16 new laptops, four webcams, 32 cell network hotspots and one fixed-point wireless link to ensure that every student sent home because of the pandemic could continue their semester online.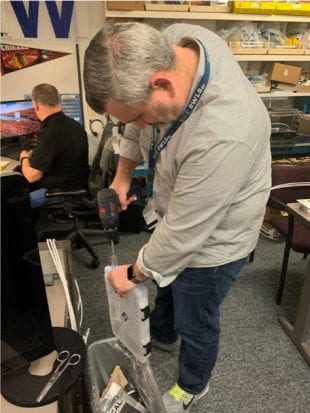 Training sessions for faculty and staff began right away. OIT, ROL and CTE collaborated with deans' offices, and almost 500 faculty were trained before social distancing and work-from-home orders took effect. Many others accessed online resources and one-on-one training sessions, and more than 1,800 staffers accessed "how to" guides with tips on working from home.
"The problem that we had was at the same time we were doing this, we were trying to get people to not come to the office," Jelinkova said. "We were really worried that if one of the people in OIT got sick and infected the rest of OIT, we would essentially shut down the institution. Because if our workforce got ill, we would not have been able to do what we did.
"So we took very radical steps to have people work from home, I think before most other offices had to go down that route," she said. "That was kind of the funny thing about the situation. Our people are really used to working together, and we were trying to get them to stop coming to work."
To support remote working staff, OIT set up more than 500 Webex Team configurations to virtualize campus call centers and provide secure home access to office telephone numbers, shared databases and back-end systems. For offices like the registrar, which still rely on some paper forms, webpages had to be updated to allow for remote submission.
OIT staff even broke out drills and other tools to assemble 40 "office-in-a-box" stations that provided a Rice phone extension and a secure campus internet connection once they were plugged into a power outlet and connected to a modem.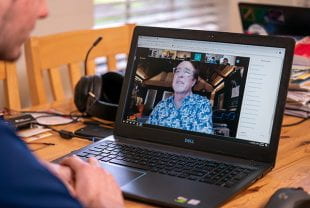 "There was a chaotic aspect to it that is really hard to explain," Jelinkova said. "For example, we made every staff member put a note on their cubicle, saying, 'My name is blah, blah, blah, and I'm working remotely, and this is how to contact me.' And I remember walking into the fourth floor of (the Cambridge Office Building) and seeing all these signs, but no one was there to read them. It seems totally ridiculous now, but very early on we were really concerned that people would be looking for people."
The work didn't stop March 23. Things "started to normalize" for OIT staff, but these aren't normal times. There will be no office get-together to celebrate a job well done. Just a momentary respite to scan the horizon for what comes next.
"I think this was a great baseline, but we need to make sure we continue to learn about things that are potentially not working," Jelinkova said. "That might be how people use Zoom settings more effectively or how we make sure Canvas is configured in a way that's easiest for people to use.
"Now that we're going back through all of the calls and surveys and feedback, we see things we can improve," she said. "That's our next step. We're now ready to take it to version 2.0."