Until last week, Melissa Kean was the Centennial Historian of Rice University.
It was, in her words, "a job that didn't exist when I got here and probably won't exist after I'm gone, but which has been one of the most exciting and interesting and even wild adventures of my entire life."
Over the past three decades, Kean carved out a niche as the go-to vessel of institutional knowledge about a university she'd only come to by chance. Kean was three credit hours shy of her master's degree at Creighton University in Omaha, Nebraska, when her husband was unexpectedly transferred to Houston in 1991.
"They told me, 'Go to Rice, take three credits, transfer it up and we'll stamp the papers," Kean said of Creighton. "One of the luckiest breaks in my life is the three-credit class that I signed up for was John Boles' History of the American South."
Kean would eventually earn her Ph.D. from Rice in that very same area, studying under famed history professor Boles. She became the university's official historian in 2005 and spent her first several years hunting down and "bringing in the stuff that people were squirreling away," from an "Owl-opoly" board game to the spectacles belonging to Rice's first president, Edgar Odell Lovett.
A former lawyer, Kean soon combined her knack for writing with the knowledge gleaned during her doctoral work and a relentless amount of research in Rice's vast archives to produce the popular Rice History Corner blog. She announced her retirement there in a June 29 post that also introduced her new grandson.
For over a decade, Kean's blog showcased "newspaper articles, scrapbooks, photographs, letters from homesick freshmen, diaries, memos from presidents and provosts, minutes of department meetings, bits and scraps found in every corner of the campus and beyond" in daily updates. It quickly grew into a popular virtual meeting space for Rice alumni and history buffs alike, amassing thousands of regular readers.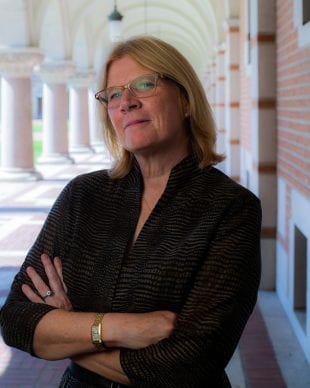 In 2012, her research was vital to Rice's long-awaited centennial celebration. Kean herself appeared in dozens of Centennial Series videos detailing everything from the history of O-Week to the university's oft-forgotten first student center.
Along with Rice colleague Joshua Furman, Kean was instrumental in helping salvage documents from synagogues flooded during Hurricane Harvey in 2017; much of what they saved would later be preserved in the Houston Jewish History Archive, established in 2018 at the Woodson Research Center inside Fondren Library.
Kean often spent up to 10 hours per day inside the Woodson archives, emerging with exciting new images or documents to share with Rice History Corner readers: candid shots of Black student life in 1994 or a rare shot of Lovett smiling.
Over time, Kean became known as the person to ask about anything related to Rice that happened in the past — and Kean herself, recognizing her responsibility as custodian of Rice's history, turned to those who came before her in an effort to preserve their memories of the institution.
"One of the lucky things was that as soon as I started working on Rice history, I began talking at great length with the oldest people around," Kean said. "They knew stuff I didn't know.
"They're all dead now," she continued. "And no one else is ever going to be able to intentionally talk to those people the way that I did."
Kean's mentor and former professor, Boles, retired from teaching at Rice last year and bid farewell in a massive reception at the Moody Center for the Arts. Neither he nor Kean could have predicted her career when she first enrolled in his History of the American South course in the early 1990s.
"Historians tend to depend upon documents and written sources to tell the history," said Boles, who also directed Kean's dissertation. "But all of us know the written documents don't tell the entire history — you need to talk to people, and you often can find out things verbally or orally that you cannot find written."
This, Boles said, is what set Kean apart.
"She identified people who had been important at Rice or knew a lot about Rice, and she liked them and they liked her, so she talked and they told her things," he said of Kean's work, which also often resulted in gathering even more materials from those people to bring back to the Woodson Research Center.
"In some sense, she began an unofficial oral history of Rice," Boles said. "She did that for years with great scale and the result is thousands of these little historical nuggets."
Boles likened Kean to an archaeologist, "digging up the bones of the past." It was a job she performed "with great dedication and great joy," Boles said.
Kean, for her part, thought her role as a university historian would be more along the lines of "a library mouse," she said, "in the corner of the archives all alone, by myself, day in and day out."
"I never expected to be the person who gets the phone calls and the text messages saying 'what's going on with this?' and 'how did this happen?'" Kean said. "But I've been able to help people in different departments, different parts of campus and even off campus — help them make better decisions about things in front of them now by giving them some context about how things got to be the way that they are in the first place."
And although Kean will no longer be the go-to for phone calls about the history of things like room-and-board charges at Rice, she isn't leaving for good. A few projects she has in the works will bring her back to the Woodson on a regular basis. She'll continue to update the Rice History Corner blog as well, albeit on a weekly rather than daily basis.
Kean still has more up her sleeve for the blog, which she calls "a haphazard history of Rice University," even after more than 2,500 posts.
"And haphazard is the way history actually works," she said. "We impose these narratives on it, but really it's just a free-for-all."