HOUSTON – (Oct. 29, 2020) – With eyes around the world on the 2020 U.S. election just five days away, three Rice University professors are available to discuss various topics related to the vote, including the contest for president, election security and the electoral climate in Texas.
Paul Brace, the Clarence L. Carter Professor of Political Science, is available to discuss the presidential race and how the electoral climate might impact down-ballot races. While there are many similarities to 2016 this year, he said there are some differences — most notably that Democratic nominee Joe Biden is not Hillary Clinton.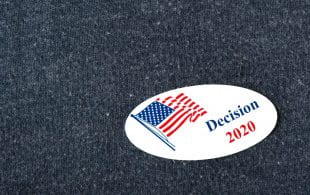 "In 2016, neither (President Donald) Trump nor Clinton scored high when it came to favorability and a critical segment of the electorate decided either to sit out, or to give Trump a chance," he said. "Having given him a chance, experiencing the result, and now offered a candidate they view more favorably, many voters nonplussed by Hillary Clinton and/or willing to roll the dice on Trump in 2016 have moved toward Joe Biden in huge numbers in national polls and in decisive numbers in key battleground states."
Come election night, Brace said Florida will likely set the stage.
"If Trump cannot win what he has now declared as his home state, his road to victory becomes prohibitively narrow," he said. "Even with a win in Florida, a toss-up at this stage, Trump's road to electoral victory is problematic in the extreme. The president is lagging substantially in must-have states and shows no signs of picking up states he lost to Clinton in 2016."
Looking to the Senate contests, Brace said even Trump has conceded in recent days that the path to retaining GOP control is not rosy.
"If current trends prevail, Democrats may take control of the Senate with 52 votes," he said, noting that this does not include a tie-breaking vote if Kamala Harris becomes the next vice president.
With regard to the U.S. House, Brace said the prospects for GOP control are slim to none given the "very favorable winds" at the backs of Democrats this year. He said polling and trends indicate the GOP may surrender its single-party control of state politics in North Carolina, Kansas, Nebraska and Texas (a total of 60 U.S. House seats), while the Democrats may lose single-party control in Minnesota and Connecticut (12 U.S. House seats).
"This power loss also extends to the redistricting of state senate and house seats as well," Brace said. "All told, the apparent Democratic wave holds prospects for significant changes in party control that should have significant repercussions in legislative elections throughout the next decade."
To schedule an interview with Brace, call him directly at 832-628-5285.
Mike Byrne, a professor of psychological sciences at Rice, is an expert on ballot design, electronic voting and voter security.
"As with every election year, I hope all of the elections are decided based on the will of the voters," he said. "Because election officials reacted to 2016, this will probably be the most secure election ever. But every time, I'm concerned that there will be an election that is decided not by hackers, but by a badly designed ballot. In 2000 it was the presidency and in 2018 it was a seat in the U.S. Senate. What will it be this year?"
Mark Jones, a professor of political science at Rice and fellow at the Baker Institute for Public Policy, is available to discuss the political climate in Texas, back in the spotlight after a 40-year hiatus from competitive presidential races as Biden is now within striking distance of Trump. Trump's victory, Jones said, hinges on the GOP's ability to turn out its voters in the final days of the campaign.
In the meantime, Jones said Trump has almost single-handedly managed to transform Texas from a state where the GOP largely cruised to victory in November to where the Texas GOP finds itself in a pitched battle across the state to project its majority in the Texas House of Representatives and its 23-to-13 majority in the Texas U.S. House delegation.
"In 2016, only one of the 36 Texas U.S. House seats was considered competitive, TX-23. In 2020, a dozen are considered competitive," he said. "Meanwhile, in the Texas House, Democrats need a net gain of nine seats to take control and prevent the Texas GOP from being able to draw tailor-made U.S. House districts in 2021 once Texas is apportioned its 38 or 39 U.S. House seats, up from 36 at present. To gain control, Democrats will need to protect their seven vulnerable seats, win all eight of the most vulnerable Republican seats and then win one of the four GOP seats that presently 'lean Republican.'"
More insights from Jones are available online at https://www.bakerinstitute.org/2020-texas-house-ratings/. To schedule an interview, call him directly at 832-466-6535.
For more information or to schedule an interview with Byrne, contact Amy McCaig, senior media relations specialist at 217-417-2901 or amym@rice.edu.
-30-
This news release can be found online at news.rice.edu.
Follow Rice News and Media Relations on Twitter @RiceUNews.
Photo link: https://news-network.rice.edu/news/files/2020/10/144390452_l.jpg
Photo credit: 123rf.com
Located on a 300-acre forested campus in Houston, Rice University is consistently ranked among the nation's top 20 universities by U.S. News & World Report. Rice has highly respected schools of Architecture, Business, Continuing Studies, Engineering, Humanities, Music, Natural Sciences and Social Sciences and is home to the Baker Institute for Public Policy. With 3,978 undergraduates and 3,192 graduate students, Rice's undergraduate student-to-faculty ratio is just under 6-to-1. Its residential college system builds close-knit communities and lifelong friendships, just one reason why Rice is ranked No. 1 for lots of race/class interaction and No. 1 for quality of life by the Princeton Review. Rice is also rated as a best value among private universities by Kiplinger's Personal Finance.