Yan "Anthea" Zhang, the Fayez Sarofim Vanguard Professor of Management at Rice's Jones Graduate School of Business, is the new president-elect of the Strategic Management Society (SMS).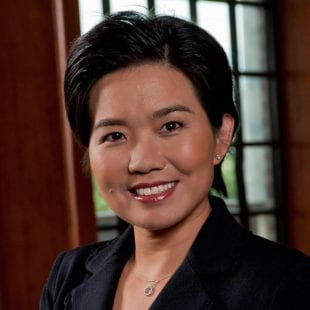 The SMS consists of over 3,000 members from more than 80 countries including academics, business practitioners and consultants. Members work on developing and sharing strategic management insights around the world.
"I seek to both expand SMS's presence on a global scale and increase the diversity and inclusivity of our community," Zhang wrote in her nomination statement. "From my own experience, I understand the career hurdles that are sometimes faced by junior, female and international scholars, and I want to see SMS play a critical role in fostering an inclusive academic community for strategy scholars from all backgrounds."
The organization is governed by a 14-member board of directors, who elect presidents for a six-year term. Zhang will serve as president-elect for two years, starting Jan. 1. She will be president the following two years and past-president for the last two.
Zhang aims to increase SMS's international reach, further engage practitioners and leverage the diversity of SMS membership. She has previously served the society as associate editor of its Strategic Management Journal, representative-at-large for its Global Strategy Interest Group and representative-at-large for its Corporate Strategy and Corporate Governance Interest Group.
"I am honored to have been part of SMS for the past two decades. … I intend to work closely with all members to make SMS a more inclusive and impactful society," Zhang wrote.