Members of the Rice Athletics team found a way to lift the Houston community during the COVID-19 pandemic by looking across the street.
"We saw a need with front-line health care workers, and that they could use a little love," said Tanner Gardner, Rice's senior associate athletic director and chief operating officer.
Staff members recently put together 450 care packages filled with snacks for health care workers at Houston Methodist Hospital in the neighboring Texas Medical Center, made possible in part by support from H-E-B and Fondren Library. In addition to food items — granola bars, candy, Rice Krispies Treats, tea bags, Pepperidge Farm Goldfish and chips — the bags included a thank-you card from Rice student athletes and a ticket to the Owls' season-opening football game Sept. 12 against Army, which has been declared Community Heroes Day.
Gardner said he discussed the plan with Hollie Fulsom, Rice's campus events manager, who mentioned that the university was set to provide temporary housing for TMC personnel at two residential colleges. They made additional care packages for those workers.
"We see ourselves as a community service organization; we feel like we exist to serve the Houston community and the Rice community," Gardner said. "I think community service is in our DNA and something we love to do, so this was a natural fit for us."
(Video by Brandon Martin, photos by Jeff Fitlow)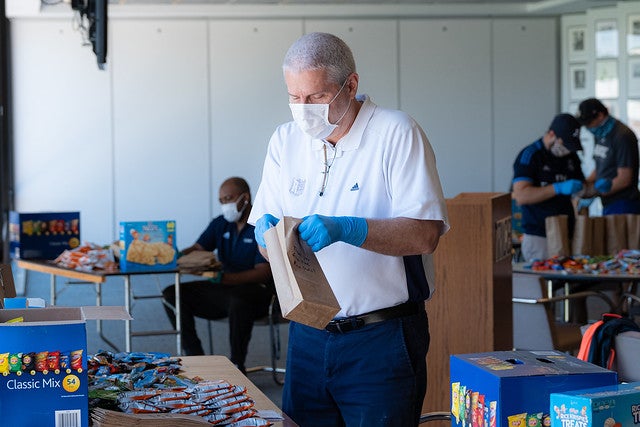 Rice Director of Multicultural Community Relations David Medina contributed to this report.