Rice alumnus Shannon Walker '87 has been assigned to the first operational crewed flight of the SpaceX Crew Dragon spacecraft to the International Space Station (ISS) and has a chance to become the first woman on the moon.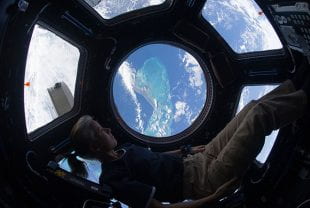 Walker's selection to the first commercial crewed operational flight to the space station was announced by NASA this week. A launch date has not been set, but Walker's crewmates for the six-month mission aboard the space station are NASA astronauts Michael Hopkins and Victor Glover Jr. and Japan Aerospace Exploration Agency (JAXA) astronaut Soichi Noguchi.
Before the Crew Dragon spacecraft can carry operational crews to the space station, it must complete a final certification test flight with astronauts aboard. That flight, known as Demo-2, could launch as early as mid-May with astronauts Doug Hurley and Bob Behnken, who are expected to dock with the space station before returning to Earth in a splashdown at sea.
Walker and her crewmates flight will be the first in a series of regular, rotational trips to the space station as part of NASA's Commercial Crew Program.
Walker, a Houston native who earned her bachelor's, master's and doctoral degrees from Rice, was selected as an astronaut in 2004 and spent 163 days as a flight engineer aboard the space station in 2010.
That experience puts Walker in the running for NASA's first return flight to the moon as part of the Artemis program, according to comments by NASA Administrator Jim Bridenstine '98 in an interview with CNN Business last year.
NASA intends to include a woman on the first return crew to the moon, and while Bridenstine declined to name names, he told CNN, "She is already in the astronaut corps. It will be somebody who has been proven, somebody who has flown, somebody who has been on the International Space Station already."
At the time of the interview, Walker was one of 12 women in the astronaut corps and among the eight who had logged time on the space station.