By William Edmond
Special to Rice News
The passing of Congressman John Lewis brings feelings of sorrow to the hearts of many across our global, national and local communities. Born to sharecroppers in 1940, Mr. Lewis began his fight against injustice as a teenager alongside Reverend Dr. Martin Luther King, Jr.
As an activist, he participated in workshops, sit-ins, meetings, and protests for equal treatment toward African Americans and other marginalized groups. Mr. Lewis began his remarkable career in public service in the 1980s. Over the course of his life, Mr. Lewis demonstrated citizen activism, service leadership and inspiration to multiple generations of Americans and beyond.
The Black Male Leadership Initiative (BMLI), with support from the Dean of Undergraduates and Boniuk Institute for Religious Tolerance, is honored to have serendipitously met John Lewis during our cultural excursion in May 2019 to Atlanta, Georgia. We had the distinct pleasure of sharing an intimate dining room with Mr. Lewis at one of his favorite restaurants, Mary Mac's Café. While there, we approached Mr. Lewis and invited him to share his perspective on the importance of leadership and change that can foster a more welcoming and inclusive environment at Rice University.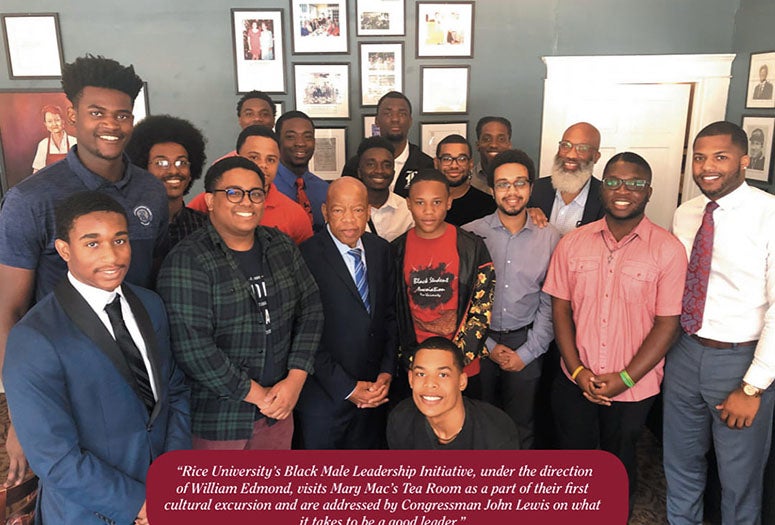 He graciously accepted the invitation to join our private lunch for a moment; it was life changing. His transcendent message to our young men centered on the struggle of leadership and transformation. Growing up, students are taught about diplomatic victories with regards to the civil rights movement. However, rarely do we learn about the sacrifices and the struggle behind the triumphs. In our quest for just change, he encouraged us to embrace the struggles and hardships along the way.
The final message Mr. Lewis shared included one of his famous quotes, "Never, ever be afraid to make some noise and get in good trouble, necessary trouble." He encouraged us to make a positive change in any corner of society — and to expect there will be opposition. Engage wisely. If ever faced with a tough decision, make sure to stand on a moral compass and demand the respect all humans deserve.
Visiting with this luminary and historic icon had a lasting impact on BMLI. What a privilege to hear his wisdom, see his courage and feel his love for us all. We left our encounter together forever changed and empowered. He is, and forever will be, a giant.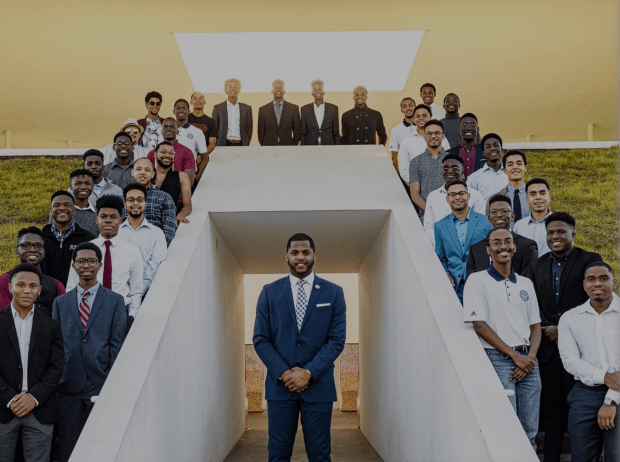 "Meeting John Lewis was humbling and eye-opening," said McMurtry College senior David King. "When I reflect on the encounter, I realize how many prominent activists dedicated their lives so others could live with fewer burdens. John's message was justice is worth fighting for — dying for. I am honored to have crossed paths with a man like him."
Congressman John Lewis's determination to solve complex social problems provides the BMLI with a renewed purpose in continuing his legacy. There are many opportunities to be a beacon of hope on our campus, in our community, our country, and the global village. An African proverb states, "If you want to go fast, go alone. If you want to go far, go together." In honor of John Lewis and his unwavering dedication to human rights and social justice, we renew our commitment to his teachings and actualization of the Beloved Community, especially during this time of national reckoning.
Although we mourn his passing, his spirit, legacy, vision and work will continue to live. We offer our sincerest condolences to all members of the Lewis family, the nation and the world alike. Thank you, John Lewis. You left humanity better than you found it.
William Edmond is the assistant director of Rice's Office of Multicultural Affairs. He assists students by serving as a resource for multiple cultural organizations, including staff sponsor of the Black Male Leadership Initiative, and in his capacity as a resident advisor at Sid Richardson College. This essay was originally published on BMLI's website.