"Religion and Black Lives Matter" is the topic of this year's Rockwell Lecture Series, which kicked off Sept. 10 with a well-attended Zoom talk by renowned Cameroonian philosopher Achille Mbembe. University of Connecticut professor and leading Africana philosopher Lewis R. Gordon will lead the next lecture Oct. 1 with a discussion titled "Fighting Against Racism for Democracy." The series is hosted on Zoom and is free and open to the public.
Anyone familiar with Rice's course catalog will recognize the title of this year's series, which is organized by the Department of Religion. It's also the name of a popular course from Anthony Pinn, the Agnes Cullen Arnold Professor of Humanities and Professor of Religious Studies, and an apt topic for a department that's long studied the intersection of race and religion.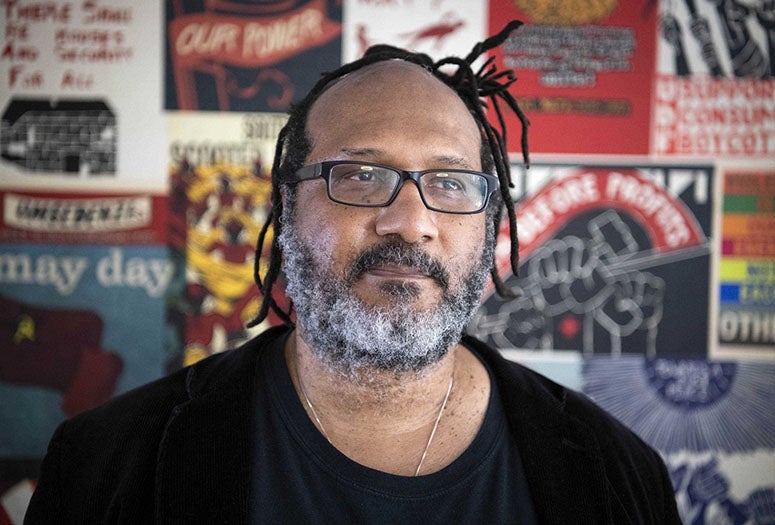 "When George Floyd was killed, the department had a long brainstorming session and decided that this year's lecture series will be committed to further discussion of race in America and around the world," said Elias Bongmba, the Harry and Hazel Chavanne Chair in Christian Theology and chair of the Department of Religion.
"It was a very deliberative process in which we agreed unanimously," he said. "It didn't come out of the blue."
Many of the department's graduate students, Bongmba said, have been actively involved in local Black Lives Matter protests since the death of Sandra Bland in Waller County, Texas, in 2015. And their work has reflected this concern.
Biko Mandela Gray '17, now assistant professor of American religion at Syracuse University, wrote his Ph.D. thesis at Rice on race and religion and co-authored "Embodiment and Black Religion: Rethinking the Body in African American Religious Experience" with Pinn's Center for Engaged Research and Collaborative Learning. Cleve Tinsley IV '19, now assistant professor of history, religion and Africana studies at Virginia Union University and a nonresident research fellow at Rice, wrote his thesis on Black Lives Matter.
There are also strong ties between the Department of Religion and Rice's Center for African and African American Studies (CAAAS), of which Pinn — who will moderate the Oct. 1 talk with Gordon — is the founding director. The department offered a competitive African and African American studies program prior to the launch of CAAAS last year and its faculty remain active in the new center.
"We see the topic as a strong complement of work the department has been doing in diversity for years," Bongmba said.
Graduate students and faculty members nominated the speakers for this year's Rockwell Lecture Series, which also includes upcoming talks by Kirsten Buick Oct. 6 (moderated by professor of religious studies and art history Marcia Brennan), Geraldine Heng Oct. 16 (moderated by associate professor of religion Claire Fanger), Adilifu Nama Oct. 22 (moderated by Bongmba and Jeffrey Kripal, the J. Newton Rayzor Chair in Philosophy and Religious Thought) and Jan Willis Nov. 5 (moderated by professor of religion Anne Klein).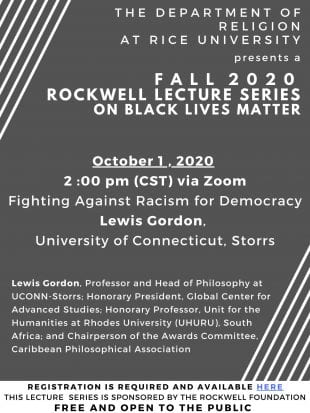 Each talk will examine a different angle in the larger conversation around religion and Black Lives Matter, including the creation of the concept of race itself. That's a specialty of Heng's; she won the 2019 American Academy of Religion prize in Historical Studies for her book "The Invention of Race in the European Middle Ages." ("If anyone still doubts the conceptual validity of religious race, this is the book to convince them," read one review.)
The topic of this year's lecture series, Bongmba said, provides an opportunity to question dogma around such subjects as the origins of race and human beings and how "others" are treated within a religious context.
"In a world where most people who call on the name of God and invoke religion the most continue to perpetuate racism without shame, what would the study of religion look like if we began to question some of these assumptions?" Bongmba said.
Human beings are realizing they live in a global rather than local community, he said, and as they do it's important to question underlying assumptions — about the religions we practice, the categories into which we group people — to determine which ones are pitting us against each other unnecessarily.
"It's not an us-versus-them game — it is 'what can we know as human beings and how can we interact?'" Bongmba said. "If we must interact, how do we treat each other? And if the premise of a civil society is to promote civic justice, who gets to experience that justice?"
Exploring those questions, he said, "is just one of the things the Rockwell Lecture Series this year will do."