Isn't it unfortunate timing to get life-changing news in the midst of the coronavirus outbreak?
That's a question people have asked Duncan College junior Cordy McJunkins since he found out last week that he won a competitive Truman Scholarship, the premier graduate fellowship in the U.S. for those pursuing careers as leaders in public service. Past winners make up an impressive roster of politicos, from Janet Napolitano and Susan Rice to George Stephanopoulos and Stacey Abrams.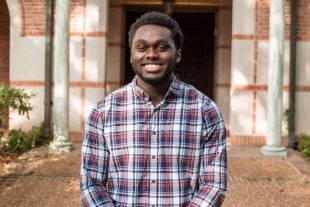 But for McJunkins, the pandemic is a lens that demands an even tighter focus on the issues he and his fellow Truman Scholars in the 2020 cohort will tackle one day.
"I think this is going to be one of the grittiest groups of Truman Scholars that has ever existed in this program," McJunkins said from his home in Texarkana, where he's completing the rest of his semester online like other students across the nation. "This is something we've never seen before and I think this will make our group even more hopeful, even more mindful of opportunities moving forward."
The federally funded scholarship was established in 1975 by Congress as a living memorial to President Harry S Truman and is awarded annually to approximately 50 students in their junior year following a rigorous application process. Each university in the U.S. can nominate four candidates for the scholarship, which provides $30,000 toward public service-oriented graduate studies.
To win such a highly competitive scholarship, McJunkins said, confirmed he's moving in the right direction. McJunkins has goals, among them to be Secretary of Education.
He also has plenty of supporters across campus, from the faculty who wrote letters of recommendation, friends who encouraged him to apply and staff at the Center for Civic Leadership, who helped McJunkins articulate his fairly incredible life in his application essays. They all jumped on a group Zoom call April 9 to surprise him with the news of his Truman Scholarship; many held hand-drawn "congratulations" posters.
"During the video call my eyes started watering," said McJunkins, who jumped out of his seat to grab his mother from the other room, then returned so the group could share the news again. "It was unreal."
After all, McJunkins never expected to be at a university like Rice in the first place.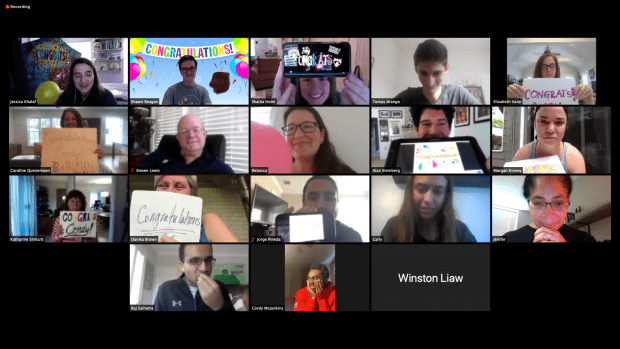 "If someone would have told me when I was graduating from high school, 'You are going to go to college, and it will completely change who you are and how you view the world, that you'll challenge yourself and ultimately that you're going to be winding down your college career with a scholarship in your hand that is one of the most prestigious in the United States,'" McJunkins said, he wouldn't have believed it.
His mother, who adopted McJunkins when he was 8 years old, always tells him to stop selling himself short. After this, he said, he finally might.
Born on the East Texas side of Texarkana to a mother who was mentally ill as well as deaf and mute, McJunkins said he raised himself until he was adopted. A move to the Arkansas side of town with his new family meant more stability for the young McJunkins, but new challenges presented themselves as well, even as he became the valedictorian of his graduating class in high school.
As a first-generation college student from a low-income family, McJunkins is exceptionally sensitive to the needs of his peers with similar backgrounds. The pandemic is drawing clear lines across the country between students who are able to learn effectively from home and those whose circumstances prevent it.
McJunkins is lucky right now, he said, to be in a place where he's able to stay connected — he's been participating in his classes online and hosting virtual town halls with other Rice students to deliberate the fraught topic of grading this semester — but he knows this isn't the case for all college students.
"I need to be helping the same people that I once was," he said. "I was that little boy who was scared and didn't know where the next meal was going to come from, or how I was going to be able to get to school, or if there was going to be hot water for me to take a shower."
As someone who spent time in foster care, McJunkins wants to help improve that system one day. "As someone who struggled with education access while I was in foster care, I want to change these current statistics by finding creative solutions to help bridge the gaps in educational equality," he wrote in his application.
The Truman Scholarship, he said, moves him that much farther forward on his path toward being in a position to help others at a broad level. And he's already pretty far along.
As incoming Duncan College president, McJunkins is focused on creating a community for his fellow low-income and first-generation students. The triple major in psychology, economics and social policy analysis is busy applying to law schools. And he's already working on his application for another prestigious civic-minded program: the Rhodes Scholarship.
McJunkins never even so much as ran for student council in high school, so to find himself on a path toward public service surprised him. But he credits Rice for developing a love of leadership and democratic debate he never knew he had.
"Getting to meet people who actually want to change the world and getting to have true intellectual conversations with people who have ideas about how they want to do it — that, to me, has been the No. 1 thing that made Rice fun," McJunkins said. "Suddenly I'm having debates about politics, I'm hearing people's opinions, we're all finding that middle ground and figuring out how to bring all these sides together — I mean, that may not be what the typical student enjoys, but it's what I enjoy."
It's optimism befitting a young man who even sees the silver lining of a pandemic: as a way to bring people closer together.
"Call it unconventional wisdom," McJunkins said.