Rice's Undergraduate Research Symposium (RURS) is the big yearly event for students across disciplines to showcase their research projects and receive recognition for their work. Eagerly anticipated each year, the daylong symposium — which typically includes oral presentations and public poster presentations in Tudor Fieldhouse — allows for critical feedback from judges from across campus and in the community.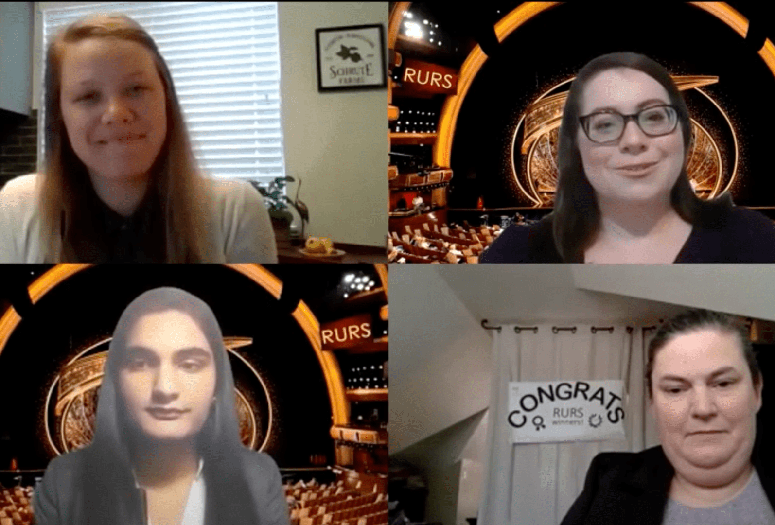 This year, COVID-19 forced RURS co-chairs Alison Drileck and Anika Sonig to pivot from their well-laid plans and quickly envision a new version of their event: totally online, but with as much feedback and interaction with judges as possible.
The switch fit the theme chosen for this year's symposium, "Seeing the World Through Different Lenses," the co-chairs said with a laugh. Though the theme came to have another connotation, it was originally meant to highlight the increasing inclusion of humanities research in what has traditionally been an event dominated by disciplines such as natural sciences, engineering and social sciences.
"I was on the Dean of Humanities Undergraduate Advisory Committee last year, and one of the things we talked about was how to have more humanities students showcasing their research and understanding that they were doing research," said Drileck, a Sid Richardson College senior who is a double major in history and social policy analysis herself.
Although upper-level humanities classes require exactly the kind of work appropriate for RURS, Drileck said, "the students didn't recognize what they were doing was research." She and Sonig were successful in recruiting plenty of humanities research projects to RURS this year and were excited to see their work showcased on April 15.
Then, the coronavirus happened.
Together with faculty and staff in the Office of Undergraduate Research and Inquiry, Drileck and Sonig decided to move RURS online to Canvas, which Rice already uses as its learning management system. This familiarity was essential for the co-chairs, said Elizabeth Eich, associate director of undergraduate research and inquiry.
"They said it was really important not to limit participation," said Eich.
"RURS started as a purely student-organized event, and these co-chairs continue to make the really important decisions," Eich said. "It's not an event run by our office with student helpers — they really are the leaders for this event."
Using Canvas, students were able to upload their poster presentations and speeches, answer questions posed by judges and receive feedback on their research projects. Drileck and Sonig were involved every step of the way, from helping students adapt their poster presentations for an online setting to producing a video RURS awards show once winners were chosen.
"One thing we definitely wanted to do was add more of a personal and fun touch rather than just sending out a normal email to notify them," said Sonig, a Sid Richardson College sophomore. "Celebrating the winners and honoring all the time and effort that they put into their presentations was important to us."
An Oscars-themed celebration, the awards video recognized the top 10% of this year's entries and the 2020 RURS winners — including the first-ever Jenessa Shapiro Award winner: Martel College senior Kristen Rabbitt, an ecology and evolutionary biology major whose research findings suggested coral predators like butterflyfishes and parrotfishes fulfill an important role in maintaining reef resilience.
Jenessa Shapiro '02 founded the first RURS the same year she graduated. The psychology major went on to join the faculty at UCLA as a premier researcher in her field before her death in 2018.
The Jenessa Shapiro Prize for Best Honors Thesis was already awarded each year to an undergraduate senior in the Department of Psychological Sciences. The new Shapiro Award through RURS recognizes the ideals of the scientific enterprise exhibited by Shapiro during her time at Rice: curiosity, ingenuity, creativity and hard work.
"I think it was really nice that they took the time to put this video together," Eich said of this year's co-chairs. "It was something that we were able to share with Jenessa's family and show that even in these stressful times, we really appreciate and recognize all of the spirit that she had and the impact of what she started with RURS. It's still going and really serving our students very well."
The following students represent the top 10% of competitive entries and top presenters in each award category for 2020:
Jacob Bhoi: "The SNARE Regulator Complexin 3 is a Target of the Cone Circadian Clock"
Dany El-Najjar: "Modulating Phosphorylation of ATXN1's S776 as a Therapeutic Approach for SCA1"
Trisha Gupta, Lisa Lin (Team Award winner): "Development Finance Policy for Universal Electricity Access"
Jade Kanemitsu (School of Social Sciences winner): "Linguistic Mechanisms of the Relationship Between Perceived Burdensomeness and Negative Health Outcomes"
Romi Lee (School of Engineering winner): "Using Hydrogel Coatings to Alter Heart Valve Surfaces"
Kristen Rabbitt (Jenessa Shapiro Award winner, School of Natural Sciences winner): "Coral Predators Disperse Abundant and Diverse Live Coral Symbionts"
Kelsey Sanders: "Assessing the Impact of Hyposalinity Stress on the Coral Holobiont"
Manuj Shah: "Synthesis of Enantiopure Orthogonally Protected 2-Substituted Piperazines as Versatile Synthetic Building Blocks"
Jordan Sims: "Transgenerational Impacts of Nitrate Enrichment on Vertically-Transmitted Symbiont Communities in the Stony Coral, Pocillopora acuta"
Lillian Wieland (School of Humanities winner): "Meaning-Making through Optimism and Despair at the End of Life"