HOUSTON – (Sept. 2, 2020) – Rice University physicist José Onuchic has been appointed to the Pontifical Academy of Sciences by Pope Francis.
Onuchic, the first Rice faculty member to be named to the academy, is the Harry C. and Olga K. Wiess Chair of Physics and a professor of physics and astronomy, of chemistry and of biosciences, and co-director of the National Science Foundation-backed Center for Theoretical Biological Physics.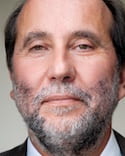 Onuchic is expected to contribute to the academy's biennial plenary sessions and to participate in scientific meetings of relevance to his research. Onuchic spoke at the most recent plenary in 2018.
The academy has operated under its present name since 1936, but has its roots in the Academy of the Lynxes, founded in Rome in 1603. According to the Vatican, it was the first exclusively scientific academy in the world, with Galileo Galilei as an early member.
According to the Vatican, the nondenominational academy's aim "is to promote the progress of the mathematical, physical and natural sciences and the study of epistemological problems relating thereto."
A letter to Onuchic noted the academy's 80 members are chosen on the basis of their original scientific studies and their moral personality, "without any ethnic or religious discrimination." Members are nominated for life by the pope.
"I grew up in a Catholic family, so anyone with that background is going to be greatly honored by being chosen," Onuchic said.
"This academy advises the church on major scientific issues and knowledge and their benefits to society. Topics include, for example, health, climate change, energy, the impacts of poverty and genetic engineering," he said. "In this regard, the academy serves an important function, considering that almost any comment that comes from the Vatican has an impact on more than just the Catholic community."
Onuchic joined Rice in 2011 with a grant from the Cancer Prevention and Research Institute of Texas. He integrates biochemical and biological models from the molecular level and above to find new ways to treat disease. Onuchic's studies incorporate his breakthrough work on protein folding and energy landscapes.
-30-
Follow Rice News and Media Relations via Twitter @RiceUNews.
Image for download:
https://news-network.rice.edu/news/files/2020/09/0908_ONUCHIC-2-WEB.jpg
CAPTION: José Onuchic.
Located on a 300-acre forested campus in Houston, Rice University is consistently ranked among the nation's top 20 universities by U.S. News & World Report. Rice has highly respected schools of Architecture, Business, Continuing Studies, Engineering, Humanities, Music, Natural Sciences and Social Sciences and is home to the Baker Institute for Public Policy. With 3,962 undergraduates and 3,027 graduate students, Rice's undergraduate student-to-faculty ratio is just under 6-to-1. Its residential college system builds close-knit communities and lifelong friendships, just one reason why Rice is ranked No. 1 for quality of life and No. 1 for lots of race/class interaction by the Princeton Review. Rice is also rated as a best value among private universities by Kiplinger's Personal Finance.