Kirsten Ostherr, the founding director of the Medical Humanities Program at Rice and chair of the Department of English, has been awarded a 2021 Michael E. DeBakey Fellowship in the History of Medicine, which supports research at the world's largest medical library: the United States National Library of Medicine (NLM) at the National Institutes of Health (NIH) in Bethesda, Maryland.
Medical Humanities exists at the intersection of multiple disciplines, a plurality also explored by Ostherr's fellowship-winning research project: "The Visual History of Computational Health."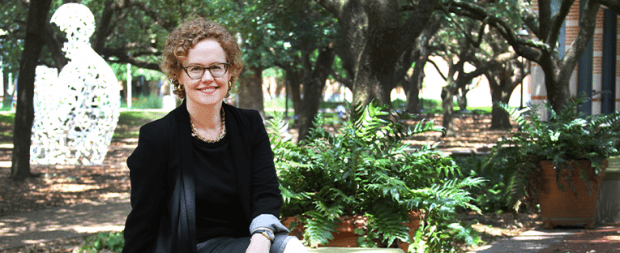 Computational health seeks to communicate information to people across fields — computer scientists to medical doctors, social scientists to communicators — in pursuit of creating technologies that support medicine and health care. Using computers to analyze and predict health data can lead to medical breakthroughs from new drug therapies to alternative treatment plans.
But because all computational health technologies are ultimately created in service of helping human beings, the humanities remain foundational in their development. And the humanities can help answer such questions as how our representations and ideas of technological futures shape what actually gets developed and how it's used.
Ostherr's research will explore how the future of computers in health care was represented by people who developed experimental technologies from the 1960s to the '80s. What was the imagined relationship between computers and human beings — including doctors, nurses and patients — when that future was mostly speculative?
The NLM's DeBakey Fellowship provides up to $10,000 to fund onsite research in the historical collections of the library, which span 10 centuries, encompass a variety of digital and physical formats, and originate from nearly every part of the globe. The NLM collections also include the Michael E. DeBakey papers — representing the diverse areas in which DeBakey himself made a lasting impact — along with the papers of many other luminaries in science and medicine.
"I'm absolutely thrilled about this and can't wait to visit the archive at NLM to conduct my research once the pandemic conditions allow," Ostherr said.
Ostherr is one of three DeBakey Fellows named by the NLM this year. Scottie Hale Buehler, a visiting research affiliate with the University of Texas at Austin's Institute for Historical Studies, will research health care in U.S. prisons. Jessica L. Adler, associate professor at Florida International University, will research the history of midwives in the French Atlantic.
DeBakey was a legendary American surgeon, educator and medical statesman. During a career spanning 75 years, his work transformed cardiovascular surgery, raised medical education standards and informed national health care policy. DeBakey was also a pioneer in developing novel techniques for making medical motion pictures, and Ostherr wrote about his early work in her 2013 book, "Medical Visions: Producing the Patient through Film, Television, and Imaging Technologies," published by Oxford University Press.
DeBakey's inventions included the roller pump, artificial hearts and ventricular assist pumps. He was a driving force in building Baylor College of Medicine into a premier medical center, where he trained generations of top surgeons from all over the world. He was also instrumental in bringing the NLM to the NIH campus and served for many years on NLM's Board of Regents.