OpenStax, Rice's educational technology initiative, is vastly expanding its library of free textbooks, working toward a goal of ensuring that no student ever has to worry about textbook costs again. This work is possible as a result of new grants totaling $12.5 million from the Bill & Melinda Gates Foundation, the William and Flora Hewlett Foundation, the Charles Koch Foundation and the Stand Together community.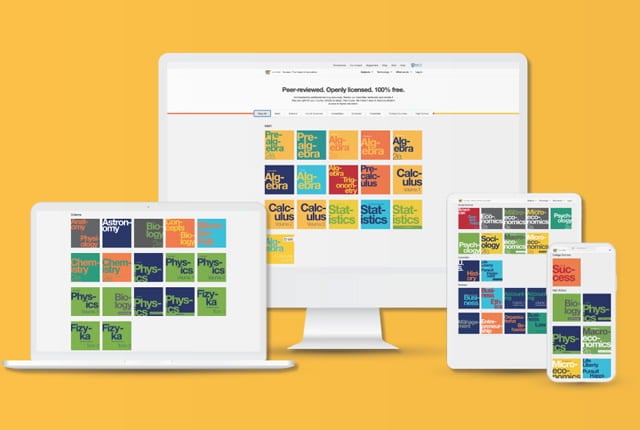 This investment catalyzes an ambitious goal to double the size of the OpenStax library, deepening the organization's impact and increasing its share of the textbook market. With 42 books now in its library, OpenStax resources have saved 14 million students around the world more than $1 billion since it published its first book in 2012. By expanding its library to nearly 90 titles, OpenStax believes it can reach 10 million student-seats over the next five years.
"Nine years ago, we dreamed about solving the textbook affordability and access crisis for students," said Richard Baraniuk, the Victor E. Cameron Professor of Electrical and Computer Engineering at Rice and founder and director of OpenStax. "Now, with this tremendous investment in open education, we will be able to not only accelerate educational access for tens of millions of students but also drive innovation in high-quality digital learning, which has become commonplace due to COVID-19."
Open educational resources, including OpenStax textbooks, are educational materials available for free, public use. Also known as OER, they are licensed to allow for modification and redistribution by anyone.
In May, Cary Nederman, a professor of political science at Texas A&M University, wrote OpenStax to express his excitement after discovering its American Government book was available for free. He began searching for new options after a meeting with the dean of his college. "She emphasized that we should try if at all possible to keep the prices of our required texts to a minimum in light of COVID-19 because many students work at least part time and now have no jobs and no income," Nederman said. He made the switch to a free OpenStax textbook. "This was an answer to my prayers," he said.
The Bill & Melinda Gates Foundation has been investing in developing and disseminating high-quality digital learning tools for more than a decade and is committed to making those tools broadly accessible as the shift to online learning threatens to widen the digital divide.
Each of these funders has long supported a future in education that benefits all students -- where knowledge is democratized, learning technologies are infused with best practices from learning science, and educators and learners are empowered with free, open and customizable resources.
"We have supported open educational resources since their inception in 2001, and OpenStax has been a key partner with us all along," said Angela DeBarger, education program officer at the William and Flora Hewlett Foundation. "The rising cost of course materials can have a direct impact on the classes students take, and the way textbooks are used can greatly detract from learning. That's why we support OpenStax's effort to develop high-quality, equitable teaching and learning opportunities that allow students to fulfill their potential to succeed."
In a video posted to Twitter, Baylor University student and OpenStax intern Gabby Kennedy urged instructors to look into OpenStax resources. She pointed out that the multiple formats available for OpenStax books give every student the opportunity to learn regardless of whether they can pay or connect to the internet. Kennedy also noted that students have access to OpenStax content forever. "I'll be able to look back at all the things I wasn't able to fully understand or learn because of everything that's been going on in the world," she said.
"Cost is a barrier to education for too many students," said Charles Koch Foundation Executive Director Ryan Stowers. "And we continue to be excited to support OpenStax's vision to open access to a wider pool of students. Even more exciting is the potential to dramatically improve how students learn more, better and faster. Through advanced technology that leverages insights gained through student learning data, OpenStax will be able to continuously refine and improve the education experience for students."
Demand for OpenStax and other open educational resources has increased dramatically over the past decade and it has soared since the onset of the COVID-19 pandemic. Instructors needed free, high-quality and flexible educational materials that all of their students could access when they moved online in the spring. Since schools started remote instruction in March, OpenStax has seen a 217% increase in use of its materials over the same period last year.
OpenStax aims to raise $30 million for the library expansion. The initial grants represent an important first step in future fundraising efforts.
-30-
Related materials:
OpenStax interns share their perspectives on the value of OER during the COVID-19 pandemic.
About OpenStax
OpenStax is committed to improving access to quality learning materials. As an ed tech initiative that is part of Rice University and supported by philanthropic foundations, OpenStax provides free college and Advanced Placement textbooks that are developed and peer-reviewed by educators, as well as low-cost, personalized courseware that helps students learn. For more information, visit http://OpenStax.org.
About the William and Flora Hewlett Foundation
The William and Flora Hewlett Foundation is a nonpartisan, private charitable foundation that advances ideas and supports institutions to promote a better world. The foundation's open education strategy is focused on strengthening every student's learning experience through the effective use of open educational resources and teaching practices.
About the Charles Koch Foundation
The foundation supports academic research that helps solve society's most pressing challenges, as well as educational opportunities that allow students to identify their aptitudes, choose a path suited to their interests and unlock their full potential.