A few days of rain in July didn't dampen spirits or delay the plans for Rice's giant new Provisional Campus Facilities (PCFs). The four semipermanent structures under construction on the lawn next to Hanszen College and the South Servery are still on track to open Aug. 21. That's just in time for classes to begin Aug. 24.
"This has been a very compressed schedule, from designing, permitting and building all within the space of two months," said Larry Vossler, senior project manager in Facilities, Engineering and Planning (FE&P).
In more than a dozen years at Rice, Vossler has supervised the construction of everything from Brochstein Pavilion to Kraft Hall. But these PCFs — and this year — are entirely different.
"You have a sense of urgency and a sense that this is a project that really means something to the community, because it's allowing everyone to come back," Vossler said. "So having a project where you can say, 'This is a defined value, and it's immediate,' is really a lot of fun, as is working with the team to overcome all the problems along the way."
Thanks to their hustle, the first tent — named PCF 4 — will be open soon. It's serving as home base for Sid Richardson College's O-Week activities, starting Aug. 16. After all, classes won't be the only use for the PCFs.
With air conditioning and heating systems, automatically opening doors, power outlets, moveable furniture and audiovisual capabilities, the PCFs — 50 feet by 70 feet and built on newly laid concrete foundations — will also provide flexible study spaces in the evenings as well as a place for student work groups and occasional events. Five additional open-sided tents placed strategically across campus will provide even more event space.
Those open-sided tents are meant to be temporary. The PCFs, on the other hand, will be around for at least a few years to serve as flex space as other facilities undergo updates in the future.
In the meantime, "it's all about reducing population density," said Susann Glenn, director of communications for administration. "This is allowing us to create spaces where people can safely physically distance and still have social interaction, whether it's in a classroom structure or in a setting where they're doing an activity with a larger student group."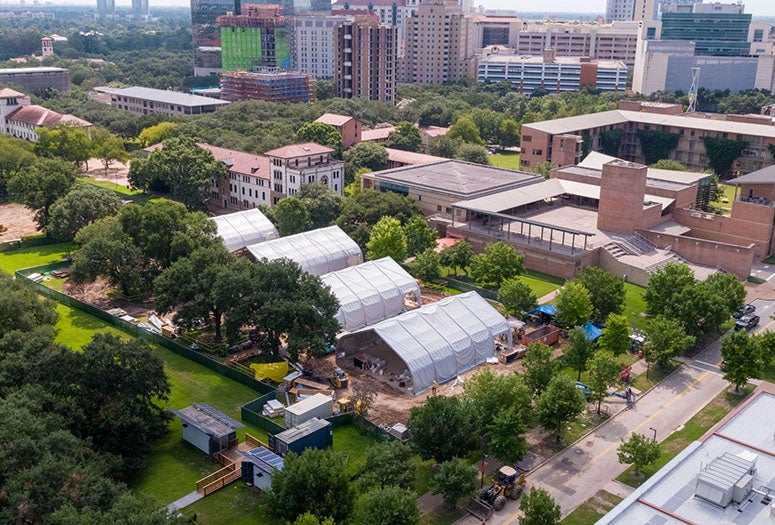 "We often talk about Rice doing things in unconventional ways, and these structures are unconventional," she said.
This also means the university is seeking unconventional means of interacting with these giant structures. There's already talk of showing movies on the exterior walls, which are covered with a tensile fabric that gives the impression of a silver screen.
Alison Weaver, the Suzanne Deal Booth Executive Director of the Moody Center for the Arts, has organized a coalition of faculty, staff and students across campus "with the goal of really activating these tents with creative interventions," she said.
That could mean everything from projecting video artwork on the walls to using them for community-created murals. With "the tent project," as she's calling it, Weaver hopes to showcase Rice's imaginative spirit through public art.
"Everybody's trying very hard to figure out dual learning and how to adapt and be safe, and I think — I hope — that this project will be a bright spot in terms of creative exploration and community engagement," Weaver said.
Only a few students have returned to campus so far, but some of them have been awed by the size and scope of the PCF construction project.
"I did not expect them to be this large," said Martel College senior Anna Margaret Clyburn, this year's Student Association president. "I'm honestly excited to wander inside for a class or two."