HOUSTON – (Nov. 9, 2020) – The events of 2020 have heightened awareness of racial injustice among people of all ages, especially young people. Yet a newly-published study shows that less than two decades ago, one in four Black teenagers were apathetic about the topic.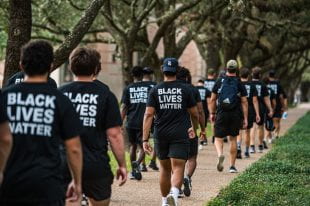 "The Prevalence, Correlates, and Consequences of Racial Apathy among Black Teenagers" will appear in an upcoming edition of the Journal of African American Studies. Tony Brown, a professor of sociology at Rice, led a team of researchers in analyzing a sample of 3,290 respondents from the National Study of Youth and Religion (NSYR), conducted in 2003.
"We often think youth lead the movement toward racial progress, but our study suggests 25% of Black teenagers who probably voted for the first time in the 2008 presidential election did not care about racial inequality five years prior," Brown said. "These may be the Black voters who cared less about candidates' record on racial justice in the 2016 and 2020 presidential elections."
Just over a decade after the Los Angeles Police Department's 1991 beating of Rodney King and subsequent Los Angeles riots shed light on issues of racial injustice and police brutality in the U.S., Black teenagers from around the country were asked the question, "How much do you personally care or not about equality between different racial groups?"
A quarter of the respondents in that 2003 survey indicated they did not really care about racial equality.
Brown and his fellow authors also found that the teenagers who said faith was important in their daily lives were more likely to care about issues of racial injustice, while those who struggled in school were more likely to be apathetic about the issue. Also, Black teenagers in western states were more likely to feel apathetic about racial injustice than those in other areas of the country.
The researchers plan to conduct future studies to track racial apathy of Black teenagers and adults in the years since then.
The study was coauthored by Rice sociology graduate students Julian Culver, Asia Bento, and Quintin Gorman Jr. It is available online at https://bit.ly/3mRZDqh.
-30-