A Rice University assistant professor of architecture and his students hope to travel to Seoul, South Korea, next fall -- if the pandemic allows -- to present their work at the city's Biennale of Architecture and Urbanism.
Juan José Castellón and his fall design studio, "Circular Prototypes: Food, Energy and Water Rooftop Infrastructures," have been accepted to present at the prestigious event, which carries the timely theme of "resilience."
His studio this semester has certainly required that.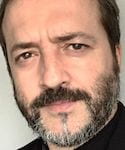 "I have a small studio, only eight students, and two of them are in China," he said. "So it's more convenient to do most things remotely because that makes it fair for all of the students. When we're working with physical models we meet on campus and try to minimize interactions -- but at the same time keep a bit of human interaction, because screens are sometimes exhausting."
Using the Martel College rooftop as a template for research, students in Castellón's fall studio split into four groups to design their resilient infrastructures. The "circular" part isn't necessarily a physical characteristic of such an installation -- though it could be -- but a reference to activating and recycling all of the resources involved to benefit the environment.
"By circular, we mean an ecosystem with interactions or loops that connect product systems with consumption systems, and architecture with infrastructure," Castellón said. "The system is sustainable because every instance plays a role.
"I had a feeling that rooftops are places that are not fully explored from the architectural point of view, especially in this more holistic approach," he said. "Usually rooftops are either used for installations and machines in residential buildings, or for fancy restaurants. We wanted to explore a paradigm that is in between infrastructure and public space."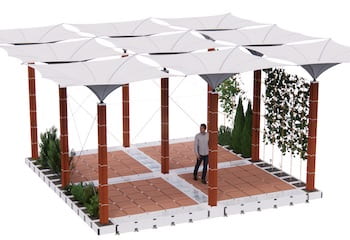 The student proposals were judged at a traditional review just before Thanksgiving break, and they will be the basis for the Seoul exhibition. In addition, and as part of the exhibition, a full-scale prototype was designed during summer as part of the ongoing research in collaboration with the Brown School of Engineering's Qilin Li and Leonardo Dueñas-Osorio, both professors of civil and environmental engineering, and Laura Schaefer, the Burton J. and Ann M. McMurtry Chair in Engineering and a professor and department chair of mechanical engineering. The research is funded through an Inter-Disciplinary Excellence Award (IDEA) and it is directly related to the studio topic.
The process doesn't get easier from here. The next phase of the project will consolidate a strategy for the installation, including renderings for the biennale catalog, construction drawings and 3D models for reference.
The completed materials and plans for an exhibition-worthy model will be sent to the biennial committee next summer and the possible full-scale prototype to host them will be built in the weeks leading up to the September start, with the exact date to be determined.
One twist to the Seoul event is that the biennale will take place throughout the city rather than in a convention center or similar indoor facility.
Classmates Daniela Ennis and Christina Zhou, whose rooftop project was considered the best design proposal of those judged before the break, hope to make the trip.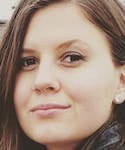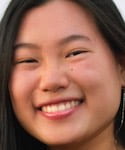 "The topic of urban farming was already embedded in the studio, but that was definitely of interest to both of us," said Zhou, a junior who had already put in time at Rice's Betty and Jacob Friedman Holistic Garden. "I remember thinking, 'Oh, I should ask my gardening professor (Joe Novak) for references and use what I learned in his class. Later, he was a guest speaker at our class, too."
"There's a community around the concept of urban farming at Rice, but making it on a rooftop uses wasted space and makes the project more visible and accessible to a community beyond students who are involved in urban farming," added Ennis, also a junior.
"The overarching idea of the project was to create a system that could be implemented on many different types of rooftops," she said. "We just took our strategy and applied it specifically to Martel."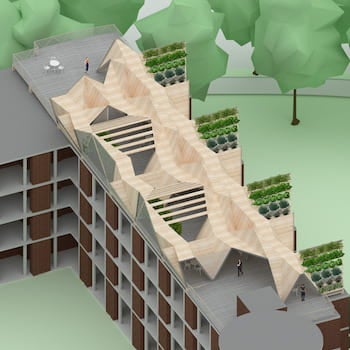 Though the installations were designed to Martel's constraints, they were not necessarily an obstacle. "The fact that Martel only has one entrance onto the rooftop would make it hard to get anything off the roof," Ennis said. "So we wanted to create a more enclosed ecology, where anything farmed on the roof would hopefully be consumed on the roof, and any food waste would be turned into compost that goes back into the farm."
The trip will require financial backing, and Rice's administration recently helped with a grant of $5,000 from the university's Scholarly and Creative Works Subvention Fund to the studio and Rice Design Alliance, which is collaborating with Castellón and his students on the Seoul exhibition and an associated public program at Rice to follow the biennale opening.
"Everything has to be sponsored by us, but our dean, John Casbarian, and Maria Nicanor, executive director of the Rice Design Alliance are very kindly supporting our initiative," he said. "The engineering firm Arup's Houston officehas also collaborated in the development of the design studio, with their in-kind expertise. Working with their principal, Ricardo Pittella, and with associate Hussein Moussa has been an amazing experience."