Rice University's new music building will be named Brockman Hall for Opera and the 84,000-square-foot structure, along with Alice Pratt Brown Hall and its adjoining plaza, will be christened the Brockman Music and Performing Arts Center.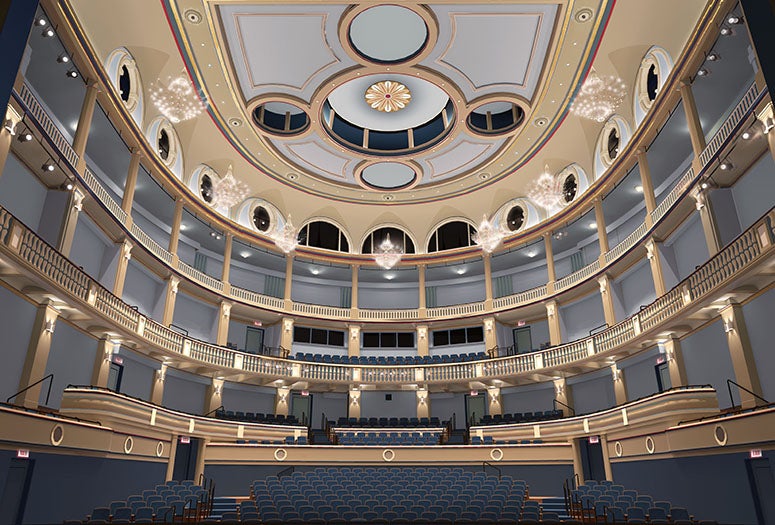 The lead donor for the project is the A. Eugene Brockman Charitable Trust.
Slated to open in late 2020, the Shepherd School of Music's new building will house the Lucian and Nancy Morrison Theater, a three-tiered, 600-seat, European-style theater with an orchestra pit for 70 musicians. It will be the first theater with this particular configuration among U.S. universities and conservatories.
"We are excited at Rice that our opera performance theater now matches the quality of our opera program and will contribute to extraordinary levels of education and achievement across Rice's Shepherd School of Music," Rice President David Leebron said. "The impact of the Brockman Music and Performing Arts Center on the university will be even broader, as it will also provide an amazing venue for speakers and occasional theatrical performances on campus. Thus the impact of this new addition to our campus will extend in important ways to the city of Houston and further enhance its reputation as a city of the arts."
"The Shepherd School of Music is internationally renowned, with an orchestral program considered one of the nation's best," Shepherd School Dean Robert Yekovich said. "This exceptional new facility will help our outstanding opera program join the orchestral program in this upper echelon."
Designed by Allan Greenberg Architect LLC, a firm with offices in New York and Alexandria, Virginia, the building will offer premium performance space for opera and chamber music, meet the growing need for rehearsal and practice space and provide a hallmark venue to attract and host high-profile speakers. The Linbeck Group LLC is the construction manager.
Theater planning and design consultants Fisher Dachs Associates and acoustic consultants Threshold Acoustics collaborated with Greenberg on the design of the building's theater and orchestra pit. The theater will feature a state-of-the-art "pin-drop" acoustic experience created by Threshold.
"We are delighted to have been able to assist in the financing of this project," said James Gilbert, director of the trustee of the A. Eugene Brockman Charitable Trust. "This has been the largest single philanthropic activity of the Charitable Trust, and I hope that all those who perform and all those who attend performances at the facility thoroughly enjoy the experience."
Yekovich said the new building will enhance an area of campus that is already home to a plethora of facilities with appealing arts and cultural offerings.
"Each year, the Shepherd School's performances attract to campus tens of thousands of guests from across Houston and beyond," he said. "We only expect this number to grow with the addition of this extraordinary performance facility."
An inaugural performance and gala celebrating the new building will be held Nov. 14. Rice Board of Trustees Chairman Bobby Tudor and his wife Phoebe will serve as chairs. For table sponsorship and ticket information, contact Shepherd School Director of Development Rosemary Price at rprice@rice.edu
Shepherd School alumni have performed in leading venues throughout the U.S. and abroad and have received top awards. For a list of distinguished alumni, visit http://shepherdalumni.blogs.rice.edu.
For more information on the Shepherd School, visit http://music.rice.edu.