During the COVID-19 pandemic, people caring for spouses with dementia must keep them safe from the virus while also handling their usual responsibilities. A new National Institutes of Health grant will fund Rice University research examining ways to help caregivers observe social distancing rules and look after their own mental and physical health.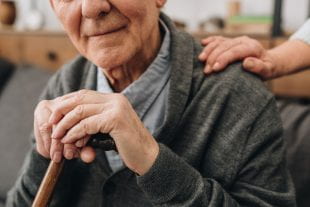 Chris Fagundes, an associate professor of psychological sciences at Rice and the principal investigator for the study, said most people caring for spouses with dementia are over 65, which puts them at elevated risk for COVID-19 complications and death. But factors such as stress and loneliness can lead to caregivers breaking social distancing guidelines, he said.
"Previous research has demonstrated that stress and loneliness can lower an individual's inhibitions and lead to risky behavior," Fagundes said. "During the pandemic, this may mean breaking social distancing guidelines, which can literally be a matter of life and death for caregivers and their loved ones."
Fagundes and his research team will track 100 spousal caregivers' mental health with regular surveys on mobile devices, simultaneously monitoring their stress physiology and sleep patterns. They will also monitor their locations to determine if and when they are breaking social distancing guidelines.
With that information, the team will be able to develop personalized advice for each caregiver, suggesting ways to accomplish everyday tasks and boost their mental health while safely distancing. The researchers will work with Akane Sano, an assistant professor in electrical engineering at Rice, to develop computer algorithms to do this automatically via machine learning.
"For example, if we see that someone is on their way to a pharmacy to pick up their spouse's medicine, our tracking system may suggest a list of pharmacies with drive-thru or curbside pickup," Fagundes said. "And if someone complains of loneliness, they may receive recommendations for online support groups or social networks.
"We hope this study will help beyond the current pandemic," he said. "Having a better understanding of who is at risk will allow us to develop interventions that automatically support people in real time. In line with the broader precision medicine era, we want to advance a precision behavioral medicine approach."
For more information on Fagundes' Biobehavioral Mechanisms Explaining Disparities Lab (BMED), visit https://bmed.rice.edu/.