To understand, say, the business policies of another country, you need to know more than economics. Knowing the culture through its literature, history and language is crucial.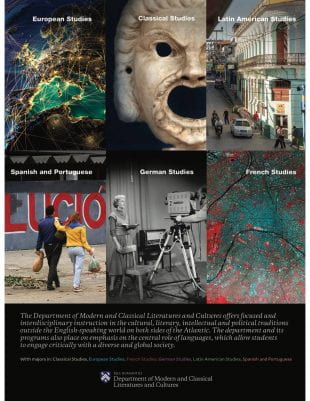 Christian Emden, the Frances Moody Newman Chair of the newly formed Department of Modern and Classical Literatures and Cultures, puts it this way: "Unless you read German-language 18th century depictions of nature in poetry, or consider the effects of industrialization in 19th-century France, for instance, you won't fully understand the importance of alternative energy policy in Western Europe, and ancient Greek tragedy still provides us with a model to understand the intricacies of many modern political events."
A new department aims to strengthen the language-based humanities by bringing them together, opening a pathway for students to pursue comparative or cross-cultural study with faculty who are immersed in a collaborative research and teaching environment.
The Department of Modern and Classical Literatures and Cultures combines the former Department of Classical and European Studies and the former Department of Spanish, Portuguese and Latin American Studies. Historically and geographically, the new department reaches from ancient Greece to the contemporary Americas.
"This consolidation aims to build upon the strengths in two departments that were themselves clusters: in the one case of Spanish, Portuguese and the increasingly popular Latin American Studies, and in the other, Classics, French and German Studies," said Dean of Humanities Kathleen Canning.
"While leaving all existing majors in place," she said, "the new department aims to innovate the study of culture across linguistic, national and regional boundaries."
Canning noted the new department has already begun to foster innovation.
"The work of Professor Jacqueline Couti in French and Francophone Studies connects creatively with the work of Professor Luis Duno-Gottberg in Spanish and Latin American Studies," she said. "In fact, they plan to launch a joint research initiative on disasters, examining narratives of natural disasters in the Caribbean and the Gulf Coast of the United States."
Future appointments will include a scholar in Lusophone African Studies forging similar collaborations between Brazil and Portuguese-speaking Africa, Canning said. This opens up entirely new avenues of research at Rice. Assistant professor of Spanish Sophie Esch, for instance, is already involved in a series of projects that will study the cultural representation of animals and the environment in times of civil war in both Spanish and Portuguese-speaking countries across South America and Africa.
And the location of language learning at Rice — in the Center for Language and Intercultural Communication rather than within academic departments — allows the new department to create more visible pathways for Owls who want to continue studying Spanish, Portuguese, French or German, from second- or third-year language courses to the study of literature, film, history, culture and contemporary politics in these languages, but also in Latin and Greek.
Modern and Classical Literatures and Cultures is a sizable new department with a research output that mirrors other large departments in the School of Humanities like English or history even though it does not have a graduate program.
At other universities, Emden noted, these kinds of consolidations are often cost-cutting measures.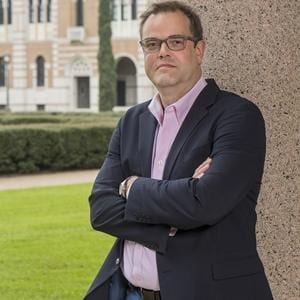 "And that's exactly what we're not doing," Emden said. "The idea that stands behind the endeavor is to build an exciting undergrad department that can rival any comparable department in the U.S., that has a research profile similar to the top humanities departments across the U.S."
A number of new minors will also be added, something Emden said has been in great demand as Owls who typically double- and triple-major seek alternative means of exploring areas like Latin American studies or Roman history without adding yet another major. After all, professor of classics Scott McGill's course on Roman civilization ranks among the most popular courses in the humanities at Rice, Emden noted.
And then there's the sizeable number of undergraduates who are matriculating with a foreign language or two already under their belt and a desire to learn even more.
"Seventeen years ago when I arrived at Rice, I'd meet the freshmen and very few of them spoke a foreign language relatively fluently, Spanish being the exception," Emden said. Now, he said, it's much more common to meet students at the annual academic fair who already have decent skills in German, French, Portuguese and a host of other languages.
Study-abroad programs will continue to be offered, including the intensive eight-week language program at Germany's University of Leipzig and Rice's Cuba program that's unique among U.S. colleges.
"We are the only American university that can still pull off, even in the current political climate, a study-abroad program in Cuba," Emden said. The program continues to be directed by Duno-Gottberg, who is also Magister of Baker College. "Without his effort and personal involvement, an innovative program like this could not take place."
New programs are in the works, too, as well as a way to make such study-abroad trips as cost-neutral as possible using endowment funding.
There will be more guest speakers, more conferences and more workshops — once the COVID-19 pandemic is in the past, of course. Emden is also looking forward to more interdisciplinary work, including a future interdisciplinary graduate program that's "a little bit outside the box."
In almost two decades at Rice, Emden said he's seen this kind of consolidation attempted before, but never with the success they've achieved this year. That's thanks in large part, he said, to the efforts of Canning and former interim Provost Seiichi Matsuda.
"Without the willingness of the faculty on the one hand, and without the support of the senior administration on the other — let's face it, you can't pull this sort of thing off," Emden said. "And it was just a very fortuitous constellation that made it possible to think about this not in terms of, 'Oh, let's cut costs,' but rather in terms of, 'Hey, let's build something new here.'"