They say necessity is the mother of invention. In the case of composer Badie Khaleghian, a doctoral candidate at Rice's Shepherd School of Music, necessity is the pandemic and its restrictions, while invention is his unique new interactive piece: "Let Your Voice Be Heard."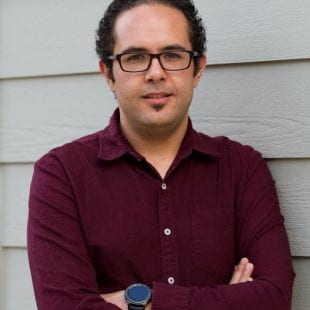 Designed to be performed via Zoom by six woodwind players, Khaleghian's piece allows audience members to "vote" on its progression; it's not unlike a classic "Choose Your Own Adventure" book, but with nine sections or scenes instead of chapters. The players will react in real time to the viewers' online votes, meaning no two performances will be quite alike.
Indeed, there are 1,024 possible permutations of "Let Your Voice Be Heard," which will be performed in a worldwide concert Nov. 19 at 6 p.m. as part of this semester's New Art/New Music series at Rice.
It was inspired, Khaleghian said, by artwork currently on display at the Moody Center for the Arts in its ongoing "States of Mind: Art and American Democracy" exhibition, on view through Dec. 19. "Official Unofficial Voting Station," a colorful faux polling location by artist Aram Han Sifuentes, encourages guests to cast paper "ballots" that question the U.S. electoral system and who is excluded from it.
"It was very interesting to me, because it gives a second chance to people to participate in some sort of voting process," said the Iranian-born Khaleghian, who cast his own vote for the first time as an American citizen this year and has long been a fan of Sifuentes' politically minded art. "I thought, OK, I can actually do the same thing musically: give my audience a vote, and then they can hear the voting in real time."
Each semester, composers from the Shepherd School are invited to respond to pieces on display in the current Moody Center for the Arts exhibition, and they often do just that with an original composition. Their compositions are then performed by their fellow Shepherd School musicians in a concert of new music (a genre also referred to as contemporary classical music) that's utterly novel, every time.
These New Art/New Music performances typically take place live in the Moody Center itself, often adjacent to the artwork that inspired them. With the limitations of the COVID-19 pandemic, however, this semester's New Art/New Music series has undergone major adaptations.
"Badie's piece is a particularly creative way of tackling the issue of performers, you know, being all over the world," said Hanszen College junior Lucas Lemonholm. The composition major has presented his own New Art/New Music pieces in the past, and for the last two years he's helped coordinate the series.
Many Shepherd School musicians are scattered across the globe right now. For those on campus, playing something like orchestral music in large groups is out of the question. So the composers in this edition of New Art/New Music have gotten even more creative than usual.
In addition to Khaleghian's "Let Your Voice Be Heard," three other Shepherd School composers wrote pieces tailor-made for broadcasting across the internet while adhering to pandemic restrictions. There is a solo violin piece ("A violinist can play with their mask on," Lemonholm pointed out); an electronic improvisation incorporating found sounds and computer algorithms; and a fixed media piece that is, implicitly, not live to begin with.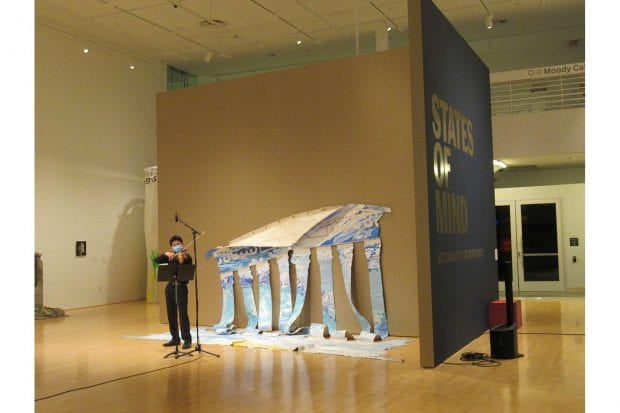 "Of course, with a fixed media piece, there is no performance at all," Lemonholm said. "It was interesting to see each composer's approach to creating music that could be filmed and performed in a socially distanced way."
Three of the four New Art/New Music pieces will be featured in a virtual concert Nov. 18 at noon on the Moody Center's YouTube channel. The sound and performances were captured in front of Rodney McMillian's "Untitled (The Supreme Court Painting)," one of the centerpieces of the "States of Mind" exhibition.
Capturing the inspirational artwork on video was as important as capturing the acoustics of the Moody's Central Gallery, which oozes the kind of haunting reverberation musicians often call "wet."
"The experience of presenting in that space is really unique," said Lemonholm, who wanted to offer viewers the most authentic audience experience possible even from afar.
Khaleghian's piece will be presented the following day — live, of course, in order to capture the votes that make it possible.
"Let Your Voice Be Heard" will offer a totally different sound, in part because of the fact that its six Shepherd School woodwind players will be performing in their individual homes across the country, including one oboist in Alaska.
Khaleghian also worked with Rob Blumrick at the Moody Center to ensure that all six parts would come across simultaneously on Zoom — a triumph of audio engineering that overcame Zoom's limitations: Usually only one person's voice can be heard at a time. With "Let Your Voice Be Heard," audience members will hear all six performers at once.
But as with democracy itself, it only works if people actually vote.
"If you don't have any voting participants, we cannot perform the music," said Khaleghian, who plans to follow the 20-minute concert with additional interaction in the form of a 40-minute audience conversation. He hopes to touch on everything from composition to the social and political issues that inform his work.
"I have a strong belief that new music is a really good medium to talk about sensitive subjects," Khaleghian said. "So it can very well give space and time to audiences to think deeply about these things."
This semester's New Art/New Music virtual concert will be streamed Nov. 18 at noon on the Moody Center's YouTube channel.
"Let Your Voice be Heard": A Virtual, World-Wide, Interactive Concert will debut live Nov. 19 at 6 p.m. Registration for the free Zoom event is required.