By Patrick Kurp
Special to the Rice News
At 3:22 p.m. May 30, Dr. Rob Mulcahy stood some three miles from the launch pad at Florida's Kennedy Space Center, where the landscape was flat, largely treeless and offered an unobstructed view of NASA's SpaceX Demo-2.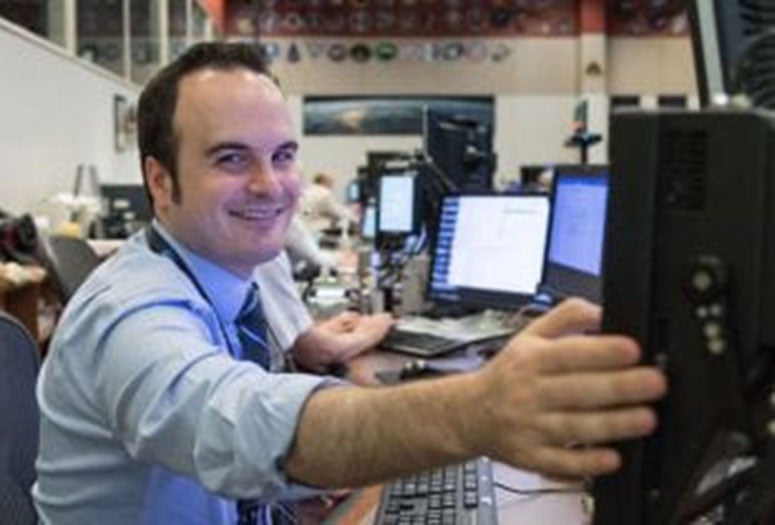 The launch had already been delayed once because of inclement weather. It was to be the first manned orbital spaceflight from the United States since the final space shuttle mission in 2011. It was also to be the first manned orbital flight operated by a private company.
Mulcahy, a flight surgeon from NASA's Johnson Space Center (JSC), had a particular interest in the astronauts seated in the Crew Dragon capsule, Bob Behnken and Doug Hurley. He was in charge of their prelaunch quarantine program, a precaution doubly important during the COVID-19 pandemic. They were in the capsule, in part, because he had helped keep them healthy.
"As the rocket lifted off, there were cheers followed by quiet, and then several seconds later, the roar and vibration of the rocket," said Mulcahy, who earned a bachelor's degree in chemical engineering from Rice in 2008. "What surprised me most was the brightness of the rocket exhaust. It was uncomfortable to stare at it, and I found myself wishing that I'd worn sunglasses. It all felt so surreal."
About 19 hours after the launch, the astronauts docked their craft at the International Space Station and joined the American astronaut and two Russian cosmonauts already aboard.
"Since the Apollo era, astronauts have quarantined before a launch," Mulcahy said. "We have a very robust quarantine program in place, so only minimal changes were needed to adapt to the pandemic. For four weeks before launch, we monitored for signs of infectious disease. During the two-week quarantine period, we added daily temperature checks of the astronauts and anyone who had contact with them. We also obtained COVID-19 nasal-swab testing."
Like a million other American kids, Mulcahy dreamed of working for NASA long before following a somewhat circuitous route to get there.
"When I came to Rice, I thought I would become a chemical engineer and get a job either at NASA or with an oil company," he said.
By the end of his junior year he decided to study medicine.
"This will sound a little weird, but I found chemical engineering much more difficult than medical school," he said. "The major difference is humans are a lot less predictable than machines."
Mulcahy entered the University of Texas Medical Branch (UTMB) at Galveston and earned his M.D. in 2012, then enrolled in its aerospace medicine and internal medicine residency. During his residency training, he earned a master's degree in public health from UTMB and was the aerospace medicine chief resident for two years.
"It's such a long road to get to be a physician, and I started out in a pretty indirect way," he said. "At Rice, I enjoyed the academic work more than I enjoyed the actual practice of engineering, but it was all part of the process to become a doctor."
In 2016, Mulcahy was hired by UTMB as a contract flight surgeon for NASA. Two years later he became a civil servant, a flight surgeon working directly for JSC in Houston.
Before the May 30 launch, two cases of coronavirus infection were reported among employees of the Kennedy Space Center, though neither is believed to be linked to work at the center. Behnken and Hurley may have been two of the safest men in the world.
"The quarantine procedures were actually a little easier to implement in the middle of the pandemic," Mulcahy said. "The astronauts spent two weeks in quarantine ahead of the launch. Stay-at-home rules allowed the astronauts to spend their first week in their own houses. Their families were able to quarantine with them."
Two days after the launch, he added: "The riskier phases of the mission, at least until the landing, are finished now that Dragon is docked with the ISS and the hatches are open. So far, so good."
– Patrick Kurp is a science writer in the George R. Brown School of Engineering.