For one Rice University classroom that is all about the hands-on experience, the fall of 2020 was a test. It appears to have passed.
The Brown School of Engineering's Introduction to Engineering Design gives freshmen a taste of what's to come during their college careers. As part of the course, they are expected to conceptualize, design and build a project by the semester's end.
That was clearly going to be a social-distancing challenge for students taking the class at Rice's Oshman Engineering Design Kitchen as well as for those forced by the COVID-19 pandemic to dial in from elsewhere.
It was a lot for Deirdre Hunter to handle as well. The engineering lecturer, in her fourth year of teaching the class, was able to begin serious planning when Rice decided in mid-summer that in-person education would be possible with some limitations.
"This class works really well for us when we can have a critical mass of students," she said. "That's close to 40 students. So when we were told that in-person class sizes were limited to 25, it was, 'How do we do that?'"
The solution made possible by the OEDK's physical layout was "upstairs downstairs" for the two classes, totaling 70 students. "We went to what we call an extended classroom," Hunter said. "We have class sizes of 35, half in the upstairs classroom and half down here in the basement. We set up a projector down here and a mic and a webcam to capture the whole classroom."
That also allowed the few remote students to dial in and participate in the lectures, which were occasionally remote for the entire class. "For some lectures, we didn't need to have everyone there in person, so we'd just decide it would be an online day," Hunter said.
"It's not perfect," she said, describing ongoing issues with microphones and connections. The classroom itself turned into an engineering problem, with solutions coming in bits over the course of the semester, both for the technology and for the teacher.
"The methods to engage people online are different from how I engage people in the classroom, so having to do both at the same time has had a learning curve," Hunter said.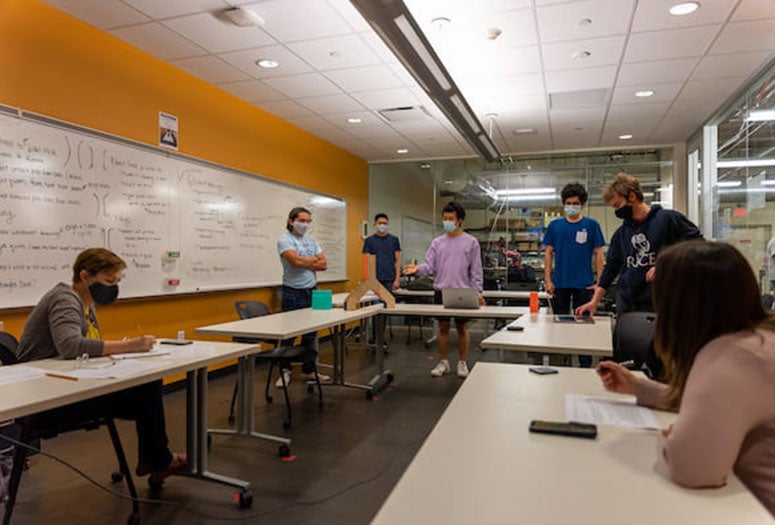 It helped to have an able assistant in Christina Rincon, a recent Rice engineering graduate who managed classes upstairs while Hunter was downstairs, or vice versa. Later in the semester, the entire class moved downstairs, with 13 teams spread out among workbenches to build their prototypes. Remote students (except for one dialing in from Saudi Arabia) received prototype parts by post so they could mirror the work of their on-site teammates. In fact, the duplicate process helped verify results for the various devices.
Part of this year's lesson plan turned out to be learning how to work under challenging circumstances, Hunter said. "We encouraged students to have that conversation: 'How are y'all going to interact with each other in ways that take safety provisions into account? What is everyone comfortable with?' And I think they've done a very good job.
"Whenever I've had a student say 'I have to quarantine or isolate,' I've asked them if they've communicated with their teams, and they have," she said. "They've been really upfront and honest with their teammates.
"Overall, I'm happy with the outcome," Hunter said. "We did all this planning up front, and we're constantly tweaking and modifying and changing, but I do feel more confident going into January."