Angel Martí, a Rice professor of chemistry, of bioengineering and of materials science and nanoengineering, has been named a fellow of the Royal Society of Chemistry (RSC).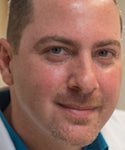 Martí, who joined Rice in 2008, was honored for his impact in the chemical sciences, particularly in his investigations into how nanomaterials and biomolecules interact.
In recent years, the Martí lab has designed and synthesized multifunctional molecules able to tag and track amyloid aggregates implicated in Alzheimer's and other neurological diseases. He and his team have also designed a simple, modular method to produce fluorescent surfactants for medicine and manufacturing, learned to enrich boron nitride nanotubes and to keep them from clumping, and discovered a method to toughen two-dimensional hexagonal-boron nitride and make it more able to bond with polymers or other materials in composites.
Founded in 1848, the RSC is a 54,000-member professional organization with some 1,600 fellows and foreign members, including about 80 Nobel laureates. Each year as many as 52 fellows and 10 foreign members are elected from a pool of some 700 candidates who must be nominated by two current fellows.