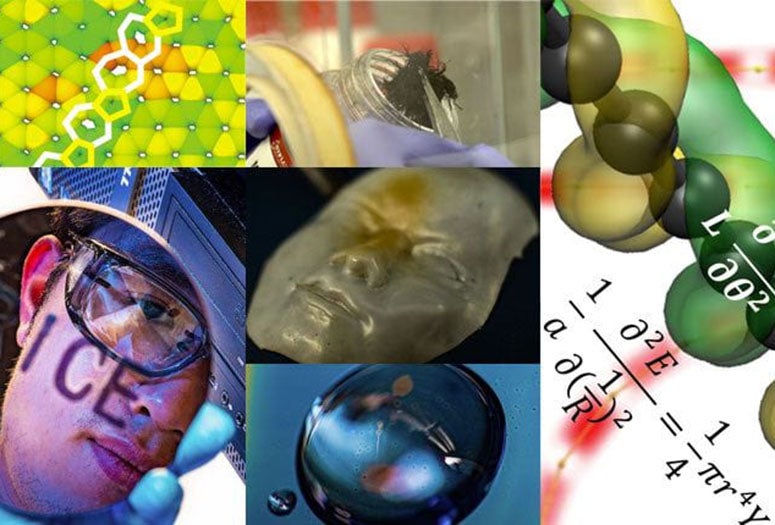 The Robert A. Welch Foundation has announced the largest single gift in the history of Rice University to establish The Welch Institute, a "sweeping strategic partnership" on campus that will focus on world-leading advanced materials research.
The $100 million underwriting the new institution will empower Rice researchers across campus, as well as colleagues from around the world, to accelerate discovery, design and manufacture of new materials for the benefit of all.
The gift is also the largest in the 65-year history of the foundation, which expects it will lead to next-generation materials for energy systems, sustainable water, space systems, biomedical materials, telecommunications, manufacturing, transportation, security and more.
The institute will "advance the vision of Robert A. Welch, who believed in basic chemical research as a powerful force for transformative breakthroughs and improving the quality of life," said Welch Foundation Chair and Director Carin Barth. "It will bring together top minds across all disciplines to catalyze innovation and center leadership in the field right here in the Houston area."
"The creation of The Welch Institute at Rice University illustrates what is possible when great institutions from across our great city come together in new ways to create new possibilities and new levels of achievement for our city and the world," Rice President David Leebron said at the announcement at the Jones Graduate School of Business' Shell Auditorium. "This is what universities and foundations do: We invest in a better future.
"This step forward represents another advance in our strategic commitment, as part of our Vision for the Second Century, of engaging with and empowering the city of Houston."
Advancing the ability to custom-build materials from the atoms up is a primary goal that will involve not only materials scientists but also scientists and engineers from across many disciplines at Rice, said Yousif Shamoo, vice provost for research and a professor of biosciences.
"The dream is to be able to design the material that you want," Shamoo said. "Let's say I need something with certain properties, whether it's heat resistance or conductivity, for a product. And it needs to be transparent. If you really understand the rules, you can design materials to fit the properties you need.
"That's the paradigm shift that's going to happen here," he said. "We're not trying to discover materials like nylon or Kevlar. We want to say, 'I need this to do that,' and then make it. This is where the computational and theory sides become just as important as the experimental and will lead to a new way of doing materials research."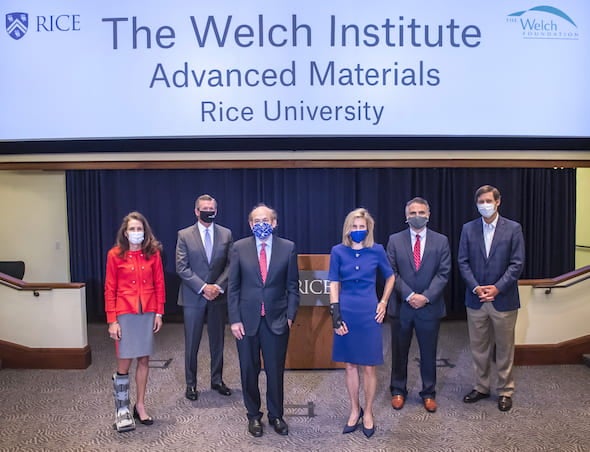 Barth said though it's an accelerating field, materials science "seems to have a low profile because it is hidden in the final product. But history attests to the fact that advanced materials are now playing a significant role across every industry."
"Rice is already known for materials, but this gives us a significant opportunity to become one of the top places in the world," added Pulickel Ajayan, founding chair of the Department of Materials Science and NanoEngineering.
"This will be seen as a remarkable moment in the history of science at Rice for collaborative and interdisciplinary research," he told the gathering, noting the university is already in the process of building a "critical mass of faculty and infrastructure in emerging areas such as machine learning, quantum materials and future device technologies."
The institute will be governed by an independent board of directors and advised by a scientific advisory board, according to foundation officials.
Leebron noted The Welch Institute joins key Rice initiatives -- including the Ion and the Midtown Innovation District, the Kinder Institute for Urban Research and the Houston Education Research Consortium -- that help empower Houston.
"Each of these endeavors is in fact a partnership with others in Houston -- with foundations, philanthropists, industry, the city of Houston, Harris County and school districts -- to create endeavors that dramatically strengthen our city and our region," he said.
"We have been aggressively competing for startups, creating opportunities for tech-related jobs and collaborating through public-private partnerships to position Houston as a robust and forward-looking city," said Houston Mayor Sylvester Turner in a congratulatory message. "Thank you to The Welch Foundation for investing in this great new institute, which is also an investment in the city of Houston's future."
Foundation officials said the new institute will build on established programs that have supported basic research in chemistry and related fields in Texas colleges and research universities for 65 years.
"The foundation has contributed more than $1 billion, endowing 48 chairs at 21 Texas universities and supporting the work of hundreds of world-class research chemists," said Peter Dervan, chairman of the Scientific Advisory Board of The Welch Foundation and Bren Professor of Chemistry at the California Institute of Technology. "We want to develop the institute while maintaining all of our legacy grant programs and awards, which have served Texas scientists so well over the years."
The foundation has a long history of funding research by Rice scientists. In 2002, it established the Norman Hackerman Award in Chemical Research, named for Rice's fourth president, to recognize the accomplishments of early career Texas scientists. Rice honorees include professors Stephan Link, Jason Hafner, Cecilia Clementi and Jianpeng Ma and professor emeritus Andrew Barron.
It also presents the annual Welch Award in Chemistry to recognize substantial achievements in chemical research. The late Rice chemist Richard Smalley, who won the Nobel Prize in 1996 for the discovery of the buckminsterfullerene, was the recipient in 1992.
Both award programs will continue in full force, according to the foundation.