Classes contemplating three of the largest forces at play in our world today — death, hate and, yes, The Walt Disney Co. — will feature in the spring 2021 lineup of Big Questions courses from Rice's School of Humanities.
The Big Questions courses are designed to cover a broad range of interests and equip students with the critical thinking and analysis tools a humanities education provides. Courses include readings and written responses alongside creative group projects that combine humanities research with technology.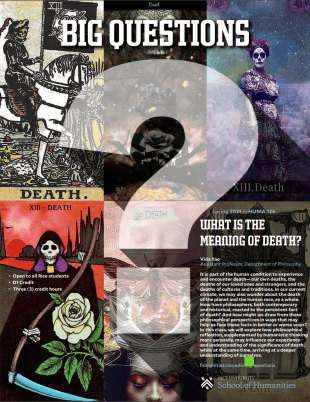 "What Is the Meaning of Death?" will be taught by Vida Yao, assistant professor of philosophy. It's an adaptation of her popular upper-level philosophy course "Death and Dying," comprised of three units: the first on questions about one's own death; the second on questions about the death of others, including ideas of grief and mourning; and this year, for the third unit, Yao will focus on what she calls "deaths of ways of life."
"It's less abstract, I think, for a lot of people right now: the idea of a culture, or just the entire human existence, coming to an end," Yao said.
Death is a feature of the human condition, but one that's often difficult for people to spend much time thinking about. So Yao often begins these courses with simple questions such as "What actually constitutes death?" and "Is your death truly bad for you?"
"Being able to answer questions that, without deeper thought, might not arise as questions at all will improve your understanding of the meaning of death, but also your understanding of your own self in relationship to death," Yao said.
"What Is Hate?" will be taught by Luis Duno-Gottberg, professor of modern and classical literatures and cultures. The project component of the course, which Duno-Gottberg said he is "teaching with a sense of urgency," will see Rice students engaging with organizations currently fighting against hate groups.
"In the United States and around the world right now, there is so much complex tension and polarization, and I thought, 'This is more than a class,'" Duno-Gottberg said. "This is an intervention — a possibility to reflect collectively about something that is incredibly pressing."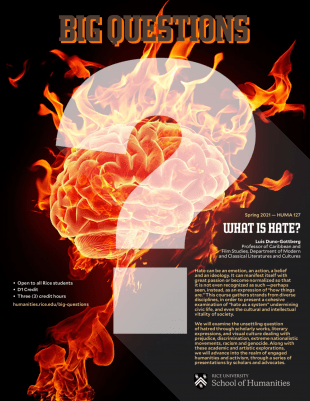 "Our contemporary world is experiencing an exacerbation of political, social and cultural antagonisms," Duno-Gottberg said. "In the face of these tensions and polarization, I thought, 'This is ought to be more than a class, this has to be an intervention. This class invites us to reflect collectively about something that is incredibly pressing and dangerous."
Duno-Gottberg specializes in 19th- and 20th-Century Caribbean culture, with an emphasis on violence and politics. He saw a need for a course that addresses the importance of hate, which he said underlies much of the current strife worldwide.
"Hate can be an emotion. It can be an action. It can be a belief. It can be an ideology. To understand these different configurations allows us to identify the specificity of each manifestation of hatred, for sure. It also allows us to see how it becomes weaponized in a given context, and for specific purposes," he said.
"Who, What, Why Is Disney?" will be taught by Charles Dove, professor in the practice of film. It will cover the massive global influence of Walt Disney, from his first cartoons to the media empire that today owns assets from ABC to ESPN.
The first and second sections of the course will cover Disney and his life, while latter sections will discuss the questions of what culture is and how many popular Disney fairy-tale films were themselves adapted from folk culture.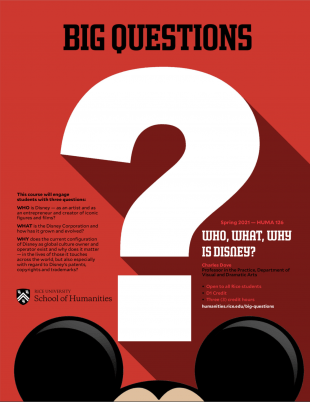 "What's the relationship between non-owned culture and specified culture that's been created, which clearly Disney himself was obsessed with? That's one of the reasons that Disney is a successful corporation today," Dove said. "He set out in a direction that a lot of the other studios at the time didn't care about at all, which was ownership of stuff."
The class will also examine the extraordinary impact Disney had on modern culture from the very beginning, from painters Andy Warhol and Roy Lichtenstein to musicians Miles Davis and Dave Brubeck — even the great Soviet director Sergei Eisenstein was among Disney's earliest superfans.
Dove will be teaching the course in the Rice Cinema, making it the final class in the historic theater before the structure is demolished in anticipation of the new Visual and Dramatic Arts building, and using its silver screen to show Disney classics. As part of the project component, he'll ask students to incorporate their own favorite Disney pieces into their own work, whether it's a story or a short film.
"I want them to take something they love and use it positively," said Dove, who hopes Disney fans in particular are drawn to the course. "And I think the idea of talking about things that they love will be productive."
Big Questions courses such as these show the ways in which humanities education can be applied in real life — whether in finding ways to combat hate groups and the violence they sow, learning how to think creatively and ambitiously, or discovering new outlooks that improve your everyday life.
"Really, it's a chance to put aside a lot of other pressures you might have, and make this space for yourself to be able to think about these things that are going to be persistent in your life and come to a clearer perspective on them," Yao said.
Registration for spring 2021 courses begins Nov. 12.