The number of blind or visually impaired people in the U.S. is expected to double in the next 30 years as the country's population ages. A new National Institutes of Health (NIH) National Eye Institute (NEI) grant to Rice University will help researchers better understand how they navigate everyday life and develop strategies to live full lives.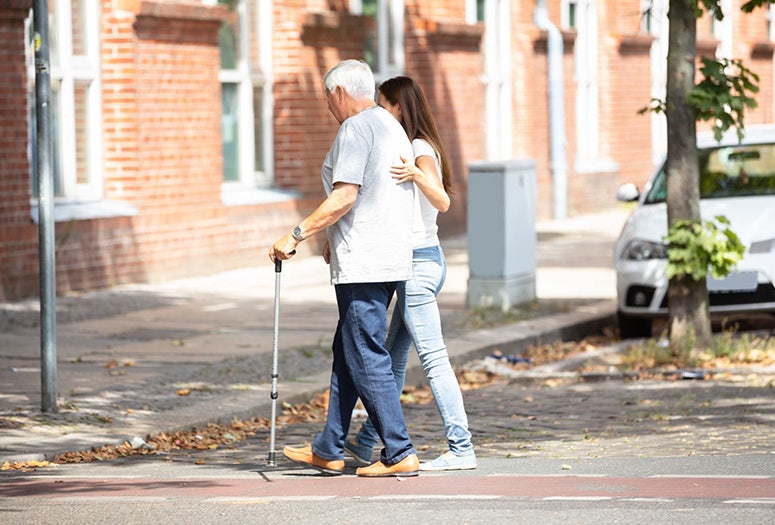 Pat DeLucia, a professor of psychological sciences at Rice and the project's principal investigator, said vision loss often leads to limited mobility and decreased independence, which can result in social isolation, depression and unemployment.
"Being able to avoid collisions with obstacles in the environment is important for safe mobility," she said. "Few studies of individuals with visual impairment have measured such judgments of collision and, in particular, the relative importance of vision and hearing, which is a gap we will address in our project."
The NIH/NEI grant (No. 1R01EY030961-01) includes funding for a new audiovisual virtual reality lab at Rice. Sixty study participants (30 with central vision loss due mainly to age-related macular degeneration and a control group of 30 people of the same age with normal vision) will perform ordinary "virtual" activities in the lab, such as reporting when it is safe to cross a street, while researchers assess their behavior.
"Individual judgments of an object's approach motion are impacted by this type of vision loss," DeLucia said. "Consequently, judging approaching vehicles while crossing the street is more challenging and could be more dangerous for those with central vision impairment."
DeLucia will collaborate with Daniel Oberfeld-Twistel of the Johannes Gutenberg-University of Mainz in Germany, Robin Baures of the University of Toulouse III-Paul Sabatier in France, Joseph Kearney of the University of Iowa, Charles Wykoff of Retina Consultants of Houston and Audrey Taylor of the University of Texas Health Science Center at Houston to examine how the visually impaired rely on sight compared to hearing.
Understanding reliance on hearing will inform training and rehabilitation for the visually impaired, DeLucia said.
"Results have the potential to lead to recommendations for interventions such as training people with central vision loss to use more effective cues or compensate for their vision loss by using behavioral strategies, and devising mobility aids to make reliable collision information more useful," she said.
The content is solely the responsibility of the authors and does not necessarily represent the official views of the National Institutes of Health.