Rice's Fondren Library has been closed since March 18, but it still offers a tremendous variety of materials online as its librarians seek new and inventive ways to support their patrons from a distance, such as a new summer lineup of digital media workshops offered via Zoom.
Now Fondren has begun offering walk-up service that allows Rice patrons to check out any materials on the shelves or in the Library Service Center. Books are bagged for pickup and patrons are required to wear masks.
Other services, however, remaining online-only, including the popular workshops offered by the library's Digital Media Commons (DMC). They're typically offered in-person, but hosting the free workshops in the DMC was no longer feasible once Fondren closed. And while the library does plan on reopening in phases, workshops crowded with people are off the table for the foreseeable future.
Fondren Curbside starts today. Find out more here: https://t.co/wwDXB4nb0G

Remember we also have an amazing amount of materials available online, in case you don't want to make the trip: https://t.co/5JsdaS5ojV pic.twitter.com/t8iPCCWfJo

— Fondren Library (@fondrenlibrary) May 20, 2020
That's why DMC director Jane Zhao and her team, including Mario Norton and Ian Mellor-Crummey, decided to take their last two scheduled workshops of the semester online instead of canceling them.
Introduction to Tableau on March 26 and Intermediate Tableau on April 2 were the first Zoom workshops conducted by Fondren Library staff, and although the attendance was smaller than their average DMC workshop, the feedback was overwhelmingly positive.
They decided to keep the momentum going, offering a "mini-session" of 15 digital media workshops in April via Zoom. Typically, the DMC offers its workshops on various multimedia software only until the midterm break, because most faculty, staff and students get too busy toward the end of the semester.
"Because everybody was suddenly working from home and couldn't go anywhere, we wanted to see if people had interest in conducting professional growth or developing expertise in certain applications," Zhao said.
The interest was definitely there: "The sign-ups for April were comparable to the sign-ups for January through March," she said. The feedback was equally invigorating: "Libraries are becoming more and more useful," read one glowing review from a participant.
Now, the DMC is offering more than two dozen free workshops in June and July on topics ranging from managing your citations using Zotero to animating blood cells in Blender. You can learn to use iMovie, Lightroom and GarageBand; you can improve your digital photography skills; and you can get helpful tips and tricks for making the most of your Zoom meetings.
The day before Fondren closed, access services manager Susan Garrison called on her fellow librarians to offer one-on-one Zoom consultations for any faculty, staff or students who needed it, using Calendly to quickly and easily set up training sessions.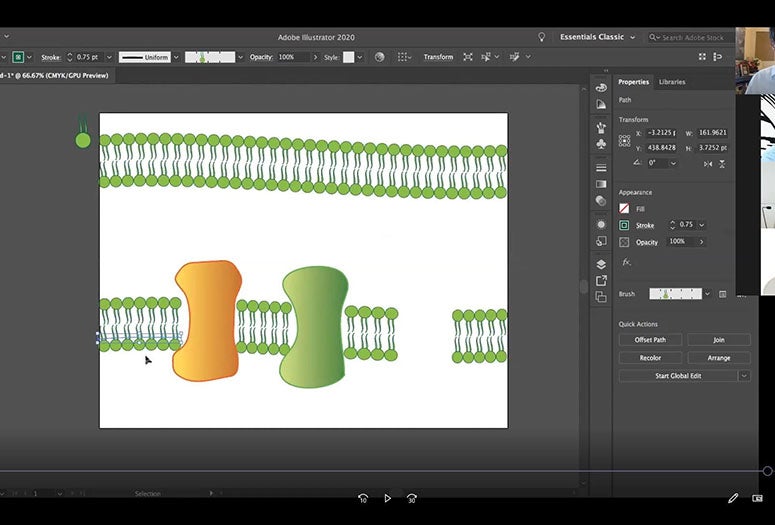 Eleven librarians responded, including Zhao, who has since conducted four of these one-on-one help sessions. Zhao also called on librarians to offer a formal Zoom training workshop, which was held in April by Garrison, Zhao and Lisa Spiro, Fondren's executive director of digital scholarship services, with assistance from access services associate Nyssa Juneau.
As Rice's IT department stays busy supporting faculty and staff conducting their own online courses and work, Zhao said she's happy she and her Fondren Library colleagues are able to pitch in with troubleshooting in areas like this.
"This is an unusual period of time for everybody, but for service-oriented libraries and for librarians, we have to think creatively," Zhao said. "The bottom line is we want to stay relevant and want to stay helpful and useful."
For more information on the DMC's upcoming summer workshops, visit https://library.rice.edu/classes-events. Courses are free and open to Rice faculty, staff, and students at Rice and Friends of Fondren Library members.