The inaugural art exhibition from the Houston Asian American Archive (HAAA), "Faces in the Pandemic," is now open inside Rice's Fondren Library.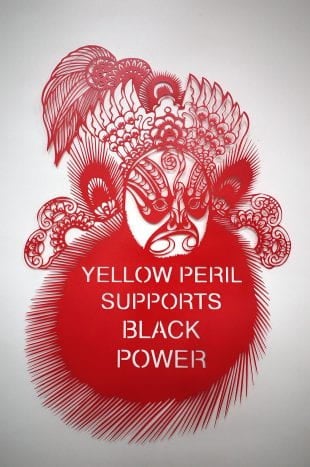 A response to the surreal nature of existence in 2020 amid the worldwide COVID-19 pandemic and global racial strife sparked by the murder of George Floyd, "Faces in the Pandemic" incorporates a large community photo mural alongside the work of 10 primarily Houston-based artists from across the Asian diaspora. Funded by the Chao Center for Asian Studies and led by associate curator Ann Shi, the show will run through Nov. 15.
The mural spanning 10 wall panels is comprised of recent photos from 120 volunteers across many walks of life. Emotions reflected in their faces range from grief and anger to bliss and contentment, while their gazes question their place in a country that still discriminates by skin color, even as they remind us of our shared humanity.
"The pandemic and the Black Lives Matter movement have profoundly impacted the Asian American community," said Anne Chao, founder and director of HAAA, which is managed by the Chao Center and housed at the Woodson Research Center inside Fondren. "The exhibition is a response of our community to these challenges."
Created with the participation of interviewees and supporters of the HAAA, the exhibition represents a portrayal of the experiences of Asian Americans in the time of coronavirus. Their perspectives recall the eras of the Chinese Exclusion Act of 1882, Jim Crow laws enacted in the late 19th and early 20th centuries that were enforced until 1965, and other laws that served to dehumanize of people of color in America.
"'Faces in the Pandemic' is a manifesto by artists and volunteers in the Asian American community concerning our faces, skin colors and the established norms and expectations underneath, in this pandemic of COVID-19 and of deep-seated racism," Shi said. "This exhibition is intended to hurt a little. But Band-Aids need to be ripped off; spurs need to be plucked out before we can move forward as a country."

Next to the mural, visitors will find an invitation to situate themselves within this time capsule: Chang Liu's "Random Walker — Dripping" is a response that echoes the mural's energy of uncertainty and instability.
Antonius Tin Bui and Jennifer Ling Datchuk both confront myths about Asians while employing traditional artforms from their culture to relate their diasporic experiences.
For Bui, paper is also a metaphor for history. The derogatory term "Yellow Peril" makes a comeback in Bui's work, referencing the Trump administration's rhetoric against Asian immigrants and expressing Asian American solidarity with the Black Lives Matter movement through papercutting.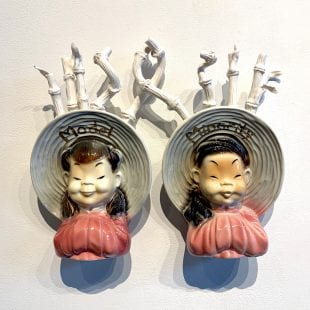 Datchuk is a ceramics artist trained in Jingdezhen, China's most heralded source of porcelain. She playfully mimics two typical Chinese dolls while calling out the "model minority" myth. Sherry Tseng Hill '80, '82 depicts community mobilization across the globe against structural inequality, systemic racism and the legacies of colonial empires in her recreation of a historical timeline featuring key Asian American social justice activists.
Victor Ancheta examines our time in the coronavirus crisis against the transient nature of life with "memento mori" ("remember you must die") and Anthony Pabillano triggers a discourse on colorism by focusing on the various skin tones of a young girl.
Special guest artist Yinxi Jushi uses traditional Chinese ink brush technique to render a poignant portrayal of the deceased Dr. Li Wen-Liang, who was silenced by the Chinese state when COVID-19 was first detected in Wuhan and later contracted the virus on the front line and died at the age of 34. Together with Brandon Tho Harris, Chang Liu, Irene Kwan and Wen-Hui Shen, the group takes a strong stand against racial inequality and social injustice.
Shi was assisted by lead intern Sarah Kong and assistant lead intern Helen Pu with the HAAA as well as Woodson director Amanda Focke and the Fondren Library staff. Frank '78 and Cindy Liu donated equipment for the show, which will be open to the public as Fondren continues its reopening process.
The library is only open to Rice students, staff and faculty until Aug. 24. Updates on additional reopening plans can be found at library.rice.edu. For visitors outside the Rice community, appointments to view "Faces in the Pandemic" can be solicited through ContactHAAA@rice.edu but are not guaranteed.
For additional information, contact Ann Shi at 646-573-6481.