Editor's note: This is part of a series of features on Rice Owls contributing to the fight against COVID-19. Read more here.
Tamara Siler '87 has always wanted to play the role of Mama Morton, the sultry matron of a women's prison in the musical "Chicago," and sing "When You're Good to Mama," a number she says is a natural for her alto and contralto voice.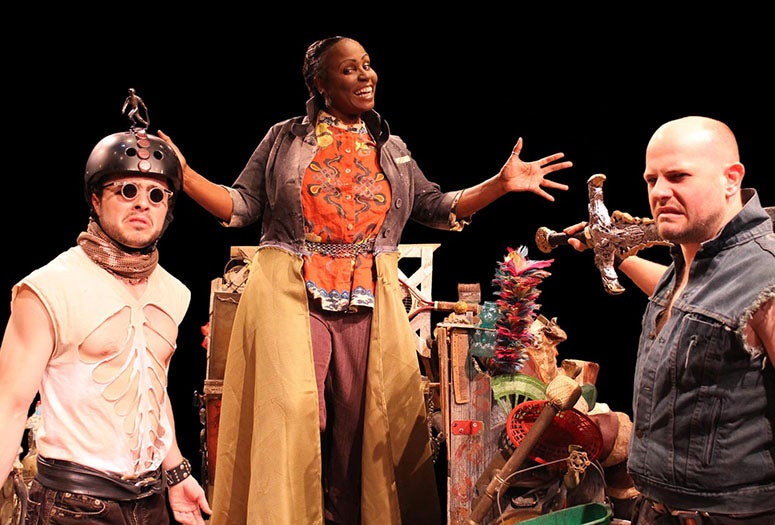 Now her dream has come true — virtually. Main Street Theater (MST) asked Siler, whose day job is serving as Rice's deputy director of admission, access and inclusion and coordinator of minority recruitment, to perform the song online as part of its Art Together project.
Art Together aims to help Houston get through the COVID-19 pandemic by showcasing performers from the confines of their homes. MST asked 25 artists to sing a song or play a role they wanted to perform on stage someday.
"We hope this will be engaging, meaningful and just fun for anyone who needs a respite from our 'new normal,'" said Rebecca Greene Udden '73, founding artistic director of MST.
As the project was being put together, Udden reached out to Siler, who has performed at the theater many times in such shows as "Caroline, or Change," "Dog Act," "Putting it Together" and "Working." She was a sure bet to inaugurate the project with a splash.
"We hold Tamara in such high regard and knew she would create something wonderful and inspiring that our audience would love," Udden said.
Siler did not disappoint. In the video, she sings a cappella, hitting all the notes with clarity and smoothness and adding the necessary pauses to emphasize the lyrics' sexual innuendo and spicy humor. Siler shows the beauty of her range, from the warmth of her lower register to her powerful upper register, ending the two-minute performance in a crescendo of high notes that in a regular theater setting would have drawn a round of enthusiastic applause.
"She was amazing," said Shannon Emerick, director of marketing and communications for the theater. "We love Tamara!"
Siler is a big fan of John Kander and Fred Ebb, the songwriters behind "Chicago," "Cabaret" and a host of other major Broadway musicals. "I like the social commentary of their musicals, as well as the fact that their musicals lend themselves to diversity," she said.
Singing and acting is nothing new to Siler, who graduated from Houston's High School for the Performing and Visual Arts and studied history at Rice. She started performing at MST while at Rice.
"Main Street Theater was one of the first places that I explored as a semiprofessional actress, and my relationship with the theater continues to enrich my life today," she said.
Over the years, Siler has performed in more than 80 theatrical productions at different venues in Houston, including Stages Repertory Theatre, Theatre Under The Stars and the Ensemble Theatre.
She said working in the theater has benefited her day job.
"Theater makes me a better communicator and connector," she said. "It allows me to see life through the eyes of another, to tell a story—all of which have been invaluable skills in my career as a college admission professional."
To watch Siler's performance online, visit https://mainstreettheater.com/atmst/.