By David Medina
The Rev. Nathan Lonsdale Bledsoe '09 and Lucas Marr '08 became friends at Rice through their love of cooking. When Hurricane Ike thundered through Houston in 2008, both of them helped the servery chef at Lovett College make meals for those who stayed through the storm.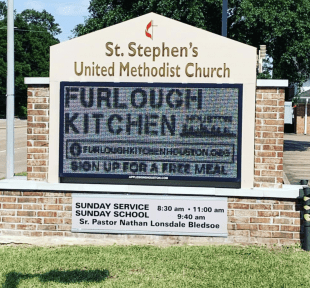 Now another crisis, the COVID-19 pandemic, has brought the culinary duo back together again to serve the community. They have created Furlough Kitchen Houston, a pop-up restaurant that offers high-quality meals to anyone who has been furloughed or laid off or is simply struggling to make ends meet — proof of need not required.
"I have a pretty deeply held theological belief that we shouldn't test folks who say they need some help," said Bledsoe, the senior pastor at St. Stephen's United Methodist Church. "Some of the people coming through the line have been out of work a lot longer than COVID has been a reality."
Marr, who runs a barbecue catering service, added that some people are picking up meals for their elderly neighbors.
"We feel like there is a lot of shame around food insecurity in this country and people are hesitant to use food banks or soup kitchens," he said. "We hope that with a name like Furlough Kitchen that it doesn't have any of those preconceived notions about getting a good hot meal when you need it."
Furlough Kitchen, which operates out of St. Stephen's in the Oak Forest neighborhood in northwest Houston, offers curbside pick-up from 4:30-6:30 p.m. on Tuesdays and Thursdays. It provides 15 meals to families from nearby Stevens Elementary School and 100 to 110 meals to drive-up recipients each day of operation. Since service began April 28, the kitchen has provided more than 1,000 meals.
"We focus on making sure that we have hearty portions for all our meals," Marr said. "It would not be difficult for each plate to easily feed one adult and one child."
Chefs Christian and Alexandria Catalan, who were laid off from their jobs as chefs at hotels, prepare the meals on Tuesdays, and Bledsoe and Marr prepare them on Thursdays. They cook whatever they please, offering appetizing fare such as jambalaya, Mexican carnitas and enchiladas. One week, Marr brought his trailer pit and cooked barbecue chicken.
"We're not intending to serve the cheapest possible meals and of course we're not serving filet or lobster, but I think if a cook likes what he or she is cooking, the results are better," Marr said.
The idea to start Furlough Kitchen Houston was inspired by a group from Dallas who started a furlough kitchen there and offered to set up operations in other cities. Marr and Bledsoe went to work, and within two weeks they'd formed a nonprofit organization so they could accept donations.
Furlough Kitchen Houston has received support from St. Stephen's, its neighbors and friends along with food and ingredient donations from eateries Rainbow Lodge, Hartz Chicken Buffet, Frenchy's Chicken and Artisana Bread. In addition, Furlough Kitchen partnered with The Common Market Texas, a nonprofit food distributor that provides organic produce, to sell produce boxes and receive a portion of the proceeds.
Marr majored in mechanical engineering at Rice and has worked for several engineering companies in Houston. Starting Furlough Kitchen, he said, was a way to get out of the house and do something he enjoys, especially cooking for big groups the way he and Bledsoe used to cook for tailgates at Rice football games.
"This was an easy way for me to help some folks out and enjoy cooking for big groups again," he said. "In the month that we have being doing this, I've seen how much good we are actually doing. The thanks we get from people enjoying our meals has been really rewarding."
For Bledsoe, who double majored in history and religious studies, Furlough Kitchen aligns with the core values of his church.
"Using our resources and space to do something like the Furlough Kitchen was a no-brainer," Bledsoe said. "This has been a really meaningful and exciting way to be the church."
To request meals, make a donation or find more information on Furlough Kitchen Houston, visit https://furloughkitchenhouston.org.