By Mariana Najera
Special to Rice News
Owned by Willet Feng '06 and Diane Feng '07, Burger-Chan is beloved by all who know the hidden gem. Located in the underground food court at Houston's Greenway Plaza, the restaurant has been serving up high-quality, customizable burgers, hot dogs and sandwiches since 2016.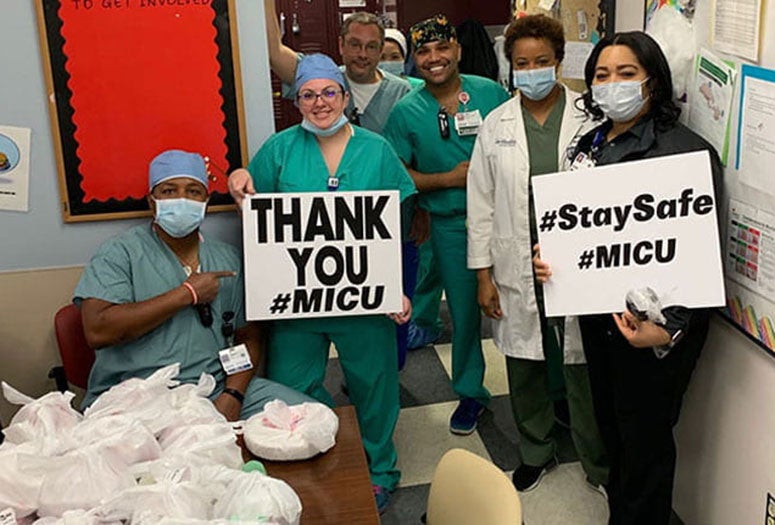 Now, in the midst of the COVID-19 pandemic, Burger-Chan is stepping up to help feed medical workers on the front lines.
After Harris County limited restaurants to pickup, delivery and drive-thru service March 17, Burger-Chan temporarily closed its doors. Two weeks later, after assessing the needs of staff and consulting with fellow industry workers and health care professionals, it resumed operations with limited hours and a smaller menu.
Knowing that their customer base would still be limited by the large number of people working from home, the Fengs looked for alternative ways to keep their business afloat. They first collaborated with Feeding the Front Line, a grassroots donation-based movement that provides meals to medical workers and first responders. Feeding the Front Line requested 140 meals for midnight delivery during their first week working together, an effort that required days' worth of preparation and more than 12 hours of continuous cooking.
Now, Burger-Chan is primarily fulfilling orders with Snacks for Med Staff, an organization started by two Rice MBA students, Coco Ma and Kathleen Harcourt. To continue giving discounts to the organizations it's working with, Burger-Chan has also set up a fund on its online ordering platform that allows customers to purchase "staff meals" that benefit health care and food service workers.
To date, Burger-Chan has worked with four organizations to provide meals to medical workers: Feeding the Front Line, Snacks for Med Staff, LIFE Fund through NextSeed, and Community First.
"The response has been overwhelmingly positive," Diane Feng said. "After every delivery, we receive photos of hospital workers eating our food with a thumbs up and a smile on their face. These hospital workers are under a lot of stress, so I'd like to think that our food takes a little bit of that stress away and gives them the energy to keep fighting to end the COVID-19 pandemic."
Mariana Najera is an intern for Rice Magazine.