Alexander Byrd's celebrated teaching career at Rice has been lauded with numerous honors, from the Rice University Presidential Mentoring Award in 2010 to the George R. Brown Award for Superior Teaching — which Byrd has won four times.
And now, the Minnie Stevens Piper Foundation has recognized Byrd as one of this year's 10 Piper Professors.
The Piper Foundation, a nonprofit charitable corporation, has honored outstanding professors nominated by colleges and universities in Texas each year since 1958.
"I'm extraordinarily grateful to the Piper Foundation for this recognition," Byrd said. "The acknowledgement is wonderful and powerfully challenging."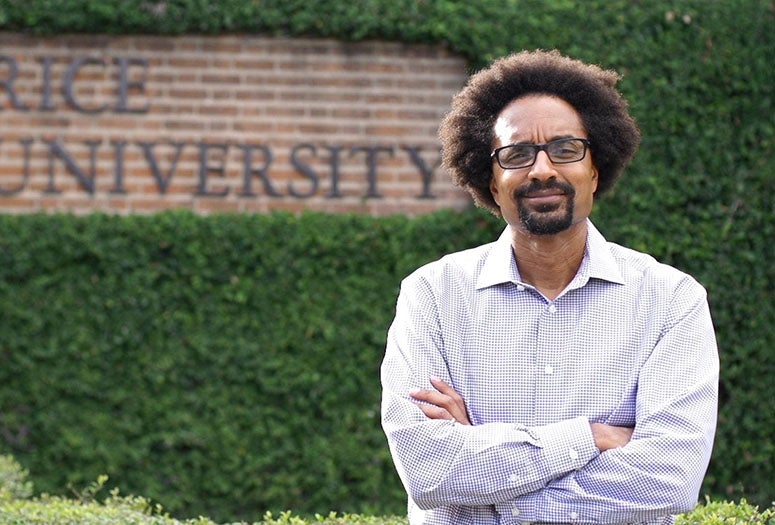 Byrd began his college career at Rice, receiving his bachelor's degree in 1990. He returned to Rice as a research scholar while completing his doctorate at Duke University and came home once again in 2001, joining the faculty as an assistant professor in the Department of History. After 11 years as a faculty associate at Baker College, Byrd served as magister of Wiess College from 2011 to 2016.
Today, Byrd is the associate dean of humanities and associate professor of history, widely admired for his mentoring skills and captivating classroom presence.
"Attend a lecture by Alex Byrd and you will quickly realize why he won this award," said Mikki Hebl, the Martha and Henry Malcolm Lovett Chair of Psychology. "His teaching style is not one where he passively lectures to students. He engages them and he requires them to think critically. And it is in an area where students most need an education and to have dialogue — African American History."
Byrd's area of expertise is Afro America, especially Black life in the Atlantic world and the Jim Crow South.
Among his most recent work, Byrd served on the steering committee for Rice's newly formed Center for African and African American Studies and was seminal in developing its new intro course, "Knowing Blackness: Introduction to African and African American Studies." Byrd also teaches "Race, Education and Society in the Urban South" and "The Black City: African American Urban Life in the United States" among other popular courses.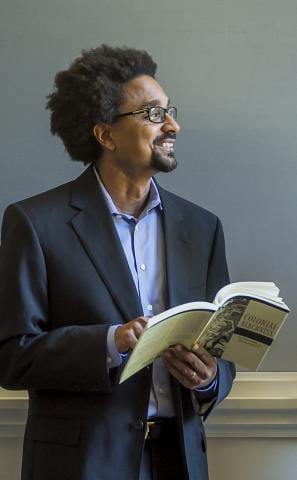 "In his class, he makes all of his students think deeply and challenge themselves," Hebl said. "He calls them out specifically to seek their opinions and answers and yet he does so in a safe environment."
Byrd joins an esteemed cohort of a dozen other Rice faculty who have been named Piper Professors, including Hebl herself in 2004.
"Alex Byrd is one of the most talented teachers that we have at Rice University and when I realize who I share the Piper Award with, it makes the award even more special," she said.
John Zammito, the John Antony Weir Professor of History, was named a Piper Professor in 2009. Every year as a former winner, he said, he immediately scans the list of new Piper Professors when it's released.
"You can imagine my elation when I saw Alex's name," Zammito said.
Past Piper Professors have been active in promoting teaching excellence, Zammito said, including envisioning and supporting the establishment of the current Center for Teaching Excellence. Byrd has done the same during his two-decade career at Rice, whether serving on the Rice University Teaching Committee or in his capacity as the undergraduate-facing associate dean in the School of Humanities.
"The Piper award winners at Rice are a very special cadre from all sides of campus," Zammito said. "I am very excited that Alex has won this recognition so relatively early in his career. As I retire, this is yet another reassurance that the Rice I have served and loved for over three decades will be in good hands going forward."
In a recent alumni profile for Duke University, Byrd said he came to Rice to be a schoolteacher and credits his undergraduate training, teaching in classrooms across Houston, with laying the foundation for his long career in education.
"It is a tremendous honor, of course, to be mentioned in the same breath as the university's other Piper Professors," he said. "It is also a great inspiration."
"I certainly desire, for instance, to be a better teacher in many of the ways that my colleagues excel," Byrd said. "I am also greatly encouraged to live up to and to teach into this recognition in the years ahead — particularly in this coming year with so much at stake and with so much uncertainty about what good university teaching should look like and about what it should do and about what it should help to make possible in our lives."