2020 presidential election in focus at Rice's Baker Institute
National experts to share insights at conference spread across three days
HOUSTON – (Nov. 19, 2020) – Leading academics, political experts and journalists from around the country will headline the third annual — and first virtual — Presidential Elections Program conference hosted by Rice University's Baker Institute for Public Policy.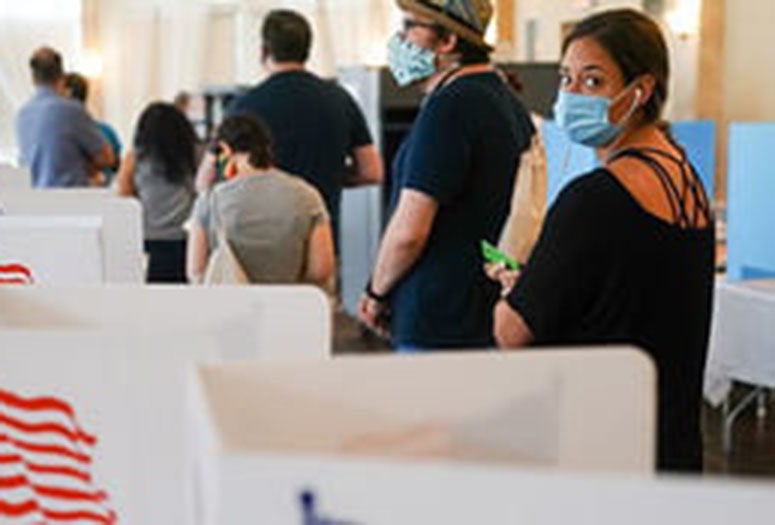 The conference, titled "A Presidential Election During the Time of COVID-19," will be split into events over three consecutive days, Dec. 1-3. Topics for panels and discussions include why the polls were off in their predictions; how COVID-19 impacted different aspects of the election process; a comparison of what happened after Election Day 2020 to the Florida recount of 2000; and what to expect out of the legislative and policy process in 2021 and 2022.
The conference co-chairs are Stephanie Cutter, who served as the deputy campaign manager for President Barack Obama's 2012 reelection campaign, and Beth Myers, who served as a senior adviser on Mitt Romney's 2012 campaign for president and as campaign manager for his 2008 presidential run. They will participate in a conversation Dec. 2 moderated by Dana Bash, chief political correspondent for CNN.
What: Baker Institute Presidential Elections Program conference.
When:
Academic experts participating include Lonna Atkeson, professor and regents' lecturer in the University of New Mexico Department of Political Science and director of the university's Center for the Study of Voting, Elections and Democracy; Kenneth Goldstein, professor of politics at the University of San Francisco, faculty director of the USF in D.C. program and former president of Kantar Media CMAG; and Daron Shaw, professor of government at the University of Texas at Austin, co-director of the Fox News Poll and the University of Texas/Texas Tribune Poll, and director of the Texas Lyceum Poll.
Campaign and political experts featured in one panel include former Texas state Rep. Jason Villalba, chairman of the board of directors and president of the Texas Hispanic Policy Foundation and a financial lawyer at Foley & Lardner LLP; Zac Moffatt, CEO of Targeted Victory and digital director of Romney's 2012 campaign for president; Chuck Rocha, president and founder of Solidarity Strategies and senior advisor to Bernie Sanders' 2020 presidential campaign; and Mindy Romero, founder and director of the Center for Inclusive Democracy at the University of Southern California's Sol Price School of Public Policy.
Another panel with campaign and political experts will include Michael Nelson, the Fulmer Professor of Political Science at Rhodes College, senior fellow at the University of Virginia's Miller Center and senior contributing editor and book editor at the Cook Political Report; Dave Carney, president and CEO of Norway Hill Associates Inc., special assistant to President George H.W. Bush and national field director and director of political affairs for the Bush-Quayle 1992 reelection campaign; Celinda Lake, political strategist at Lake Research Partners; and Amy Walter, national editor at the Cook Political Report.
Legal experts include Richard Pildes, the Sudler Family Professor of Constitutional Law at the New York University School of Law; Benjamin Ginsberg, partner at Jones Day and national counsel for the Bush-Cheney presidential campaigns in 2004 and 2000; and Mitchell Berger, founder and co-chair of Berger Singerman and attorney for Vice President Al Gore and Joseph Lieberman in Bush v. Gore (post-2000 election lawsuits).
Media members participating include Jamie Gangel, special correspondent at CNN; Jonathan Allen, senior political analyst at NBC News; Gromer Jeffers, political writer at the Dallas Morning News; and Karen Tumulty, columnist at The Washington Post.
The co-directors of the Presidential Elections Program are Rice professor Mark Jones, political science fellow at the Baker Institute, and John Williams, fellow at the Baker Institute.
Registration and social media: The sessions are free but registration is required at the individual event pages. Follow @BakerInstitute on Twitter and join the conversation online with #BakerElections.
To schedule an interview with one of the organizers or experts, contact Jeff Falk, director of national media relations specialist at Rice, at jfalk@rice.edu or 713-348-675.
-30-
Related materials:
Follow the Baker Institute via Twitter @BakerInstitute.
Follow Rice News and Media Relations via Twitter @RiceUNews.
Founded in 1993, Rice University's Baker Institute ranks as the No. 2 university-affiliated think tank in the world and the No. 1 energy think tank in the world. As a premier nonpartisan think tank, the institute conducts research on domestic and foreign policy issues with the goal of bridging the gap between the theory and practice of public policy. The institute's strong track record of achievement reflects the work of its endowed fellows, Rice University faculty scholars and staff, coupled with its outreach to the Rice student body through fellow-taught classes — including a public policy course — and student leadership and internship programs. Learn more about the institute at www.bakerinstitute.org or on the institute's blog, http://blog.bakerinstitute.org.