Leslie Contreras Schwartz '02 is now serving two very different roles that somehow seem appropriate for a Rice graduate.
Leslie Contreras Schwartz's two-year term as Houston's new poet laureate begins this month.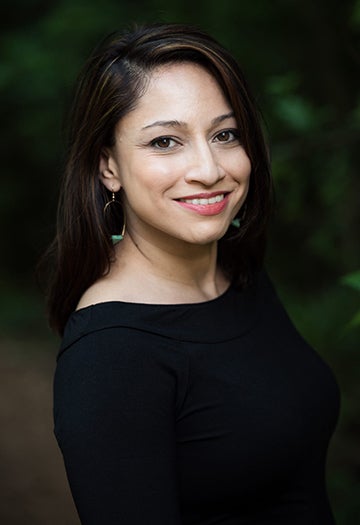 She's the editorial assistant for Rice's Tissue Engineering, a Department of Bioengineering journal that just celebrated its 25th anniversary. But that's not all she's celebrating: She's also Houston's newly appointed poet laureate.
Contreras Schwartz's two-year term begins this month. She'll be hosting workshops and teaching others — especially those in marginalized communities or suffering mental health issues — how to use the power of poetry to convey their feelings, frustrations, hopes and dreams.
"Poetry allows us to express ideas and experiences that are not available to us in everyday conversation," said Contreras Schwartz, who graduated with an English degree from Rice before earning her master's degree in poetry from the prestigious Master of Fine Arts Program for Writers at Warren Wilson College in Asheville, North Carolina.
Contreras Schwartz hopes to serve Houston as a poetry "ambassador," reminding others of poetry's deep connection to humanity. It's an art form that predates the written word; initially, easy-to-remember rhymes and rhythms were recited or sung in order to pass along everything from oral histories and religious traditions to great love stories.
"Poetry used to be an essential part of what everyone perceived as our culture — it's how news was conveyed or stories were passed on," Contreras Schwartz said. "Oftentimes people are already participating in poetry; they may not just recognize that as such."
Contreras Schwartz, a fourth-generation Houstonian, hopes her deep roots will help her achieve her goals, which include elevating the voices of minority populations to achieve a greater recognition of the city's diversity.
Her great-grandfather came here as one of the first Mexican Americans to immigrate to Houston, opening a blacksmith shop near the First Ward on the site of what is now the Downtown Aquarium. Contreras Schwartz grew up in Aldine and graduated from Eisenhower High School before attending Rice as a transfer student from the University of Saint Thomas.
"Fuego" was Contreras Schwartz's first volume of poetry, published in 2016.
As an introvert, the transition to a new school her sophomore year was tough, Contreras Schwartz said. She dove into every writing class available, including fiction writing with Max Apple, a favorite course. But she knew she'd found the right place when she took a class with Susan Wood, professor emeritus of English who retired in 2013.
"She was one of the first people who told me that I could be a poet," Contreras Schwartz said. "I was extremely, mortifyingly shy when I took her class but she encouraged me."
That same year, Contreras Schwartz won the Academy of American Poets College Prize and never looked back.
Wood and Contreras Schwartz have remained close. Contreras Schwartz visited her former teacher last year in Florida, and continues to credit Wood as the mentor who changed her entire outlook on writing.
"I remember how she made me feel — like she believed in me," Contreras Schwartz said. "She was an extraordinary teacher."
Now Contreras Schwartz aims to teach others the value of poetry, whether it's giving them a medium for expressing complex emotions or a platform to be heard.
Her own work takes on complicated social issues: mass shootings, women with mental illness, girls who have been trafficked or forced into sex work. These subjects and more fill the pages of her newest collection of poetry, "Who Speaks for Us Here." When it's published next fall, it will mark Contreras Schwartz's third book, following "Fuego" in 2016 and "Nightbloom & Cenote" in 2018.
A semifinalist for the 2017 Tupelo Press Dorset Prize, "Nightbloom & Cenote" wrestled with themes of patriarchy, domestic violence and brutality against women. Discussions of such disturbing topics are often discouraged in polite conversation, but Contreras Schwartz knows it's vital to "talk openly about what disturbs us."
A semifinalist for the 2017 Tupelo Press Dorset Prize, "Nightbloom & Cenote" wrestled with themes of patriarchy, domestic violence and brutality against women.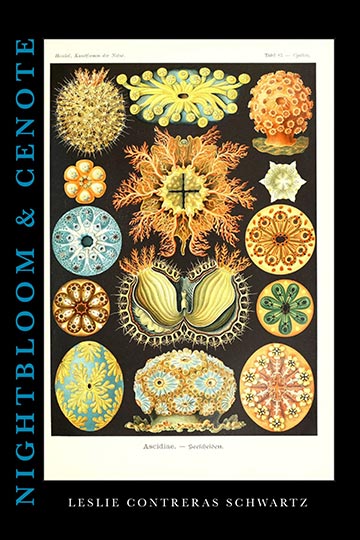 "I write about pretty dark things," Contreras Schwartz said. "But we need to talk about the dark things. We're not given many spaces in which to do that. Poetry is a great space to express those ideas."
She's already had preliminary meetings with the Mayor's Office of Cultural Affairs and the Houston Public Library to brainstorm about plans for her teaching workshops and outreach programs. Contreras Schwartz also envisions a website where she can share the poetry of those she works with, as well as resources for those who want to learn more about both poetry and Houston's vibrant literary scene. She'll also be serving as a mentor to the Houston Youth Poet Laureate, continuing the teaching tradition that brought her to this point.
For now, however, Contreras Schwartz is still adjusting to the news that she was selected as the city's fourth poet laureate after a long and competitive application process.
"I just want to emphasize how honored I am and how grateful I am to Mayor (Sylvester) Turner for selecting me and believing in my potential to do work in the community," Contreras Schwartz said. "Rice absolutely helped me get to this place."
Contreras Schwartz credits Rice for instilling in her "the idea — as soon as I got here — that all I needed to do to achieve what I set out to do was to look, to observe, to find resources and use them. And not just use them tepidly but fully engage. I was taught to do that here. I was encouraged to do that.
"To go deeper than just studying something and to figure out how the study of that thing could enhance your life, that's not something you find at every university," she said.