HOUSTON — (Sept. 18, 2018) — Rice University has unveiled a new initiative to make higher education more affordable by dramatically expanding financial aid provided to students from low-income families to those with incomes up to $200,000.
Full tuition scholarships and grants will be offered to students from middle-income families under a new financial aid plan titled The Rice Investment. Under The Rice Investment program, full tuition scholarships will be awarded to degree-seeking undergraduates with family incomes between $65,000 and $130,000 who are eligible to receive need-based financial aid. In addition, students with family incomes between $130,000 and $200,000 will receive scholarships covering at least half of their tuition. Support for students from low-income families will also be significantly enhanced under the program, and students with family incomes below $65,000 will receive grant aid covering not only their full tuition, but also all of their mandatory fees and room and board.
"Talent deserves opportunity," Rice President David Leebron said. "We've built on our already generous financial aid to provide more support to lower-income and middle-class families and ensure that these students have access to the best in private higher education."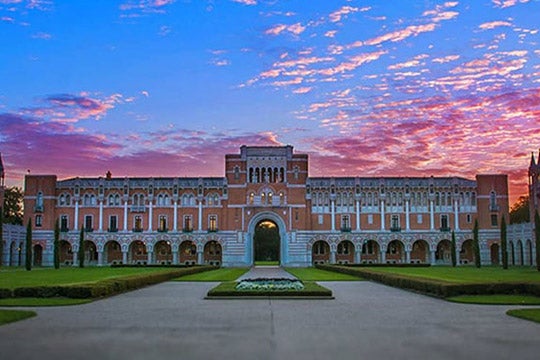 The Rice Investment will also reduce the burden of student debt. Beginning in the next academic year, degree-seeking undergraduate students from families with incomes up to $200,000 who qualify for The Rice Investment will no longer be required to take out loans as part of their need-based financial aid packages. Instead, loans will be replaced by scholarships and grants. Students will still be expected to contribute toward the cost of attendance through moderate earnings from summer and academic year jobs.
The Rice University Board of Trustees has enthusiastically endorsed the initiative, which will substantially enhance the university's already robust financial aid.
"The Rice Investment will give more students from middle-income families an extraordinary opportunity at an extraordinary university," said Bobby Tudor, the chairman of the university's board.
The plan, which takes effect in fall 2019, will impact all degree-seeking undergraduates – including continuing students – who are eligible for aid based on need. Some families may qualify for even more aid depending on their circumstances. Families with atypically large assets or certain unusual circumstances may not qualify for this need-based aid.
This initiative is intended to address challenges faced by families with moderate incomes. The average price of attending a private research university was just under $60,000 before financial aid, according to College Board data. The median income in the U.S. for families headed by parents of a typical age with college-age students was $90,120, according to 2016 U.S. Census data.
"This bold step reflects our founding principles," Leebron said. "When Rice opened its doors in 1912, we didn't charge tuition. Rice changed its charter in 1965 to begin charging tuition, but immediately began offering scholarships to eligible students. This significantly builds on that legacy and on our commitment to make a Rice education accessible and affordable for students from all backgrounds.
"We have had a spectacular year in every sense, including strong endowment returns, a record-setting number of applications and a higher yield among those we did admit. As a result of our strategic planning last year, we set a priority on assuring greater access and affordability for both lower-income and middle-class families. We believe this is the right time to take a bold step in fulfilment of that vision."
Rice is frequently ranked as one of the nation's best values among private schools because of its generous aid policies and because its annual tuition, currently at $46,600, tends to be thousands of dollars lower than peer research universities. It is one of a select number of private higher education institutions that admits students from across the United States based on academic merit without considering their financial resources. Once students are admitted, they are awarded financial aid packages that meet their needs.
"The Rice Investment is just that – an investment in the limitless promise of all students who demonstrate talent, initiative and drive regardless of their background or their ability to pay for college," Leebron said. "We are determined to continue to reflect our roots and make our education affordable for all admitted students, whatever their financial background."
Rice alumni have long expressed interest in keeping their alma mater affordable for low- and middle-income students, Leebron said, and they will play an integral part in The Rice Investment. The university is undertaking a $150 million fundraising campaign to support the program.
Expanding access and diversity in the student body is one of the goals of Rice's strategic plan, the Vision for the Second Century, Second Decade (V2C2). Rice is also one of the 30 founding members of the American Talent Initiative, an organization devoted to broadening access to higher education among talented students from lower-income families.
For more information on Rice, visit www.rice.edu. For more information on The Rice Investment, see https://rice.edu/thericeinvestment.
-30-
Located on a 300-acre forested campus in Houston, Rice University is consistently ranked among the nation's top 20 universities by U.S. News & World Report. Rice has highly respected schools of Architecture, Business, Continuing Studies, Engineering, Humanities, Music, Natural Sciences and Social Sciences and is home to the Baker Institute for Public Policy. With 3,970 undergraduates and 2,934 graduate students, Rice's undergraduate student-to-faculty ratio is just under 6-to-1. Its residential college system builds close-knit communities and lifelong friendships, just one reason why Rice is ranked No. 1 for lots of race/class interaction and No. 2 for quality of life by the Princeton Review. Rice is also rated as a best value among private universities by Kiplinger's Personal Finance. To read "What they're saying about Rice," go to http://tinyurl.com/RiceUniversityoverview.