Rice students available for college graduation stories
HOUSTON – (April 10, 2014) – As Rice University welcomes newly admitted students and their families to campus this week for Owl Days, we are starting to say our goodbyes to our seniors, who will graduate May 17.
If you're looking for students to talk to for this year's round of college commencement stories, these talented and soon-to-be Rice graduates are available for news stories. Below are links to profiles of six seniors. The videos were produced by Rice video producer Brandon Martin. Raw video is available upon request.  
Mike Schubert: 'I'm having fun'
Video: http://youtu.be/sLiyUSwOUu4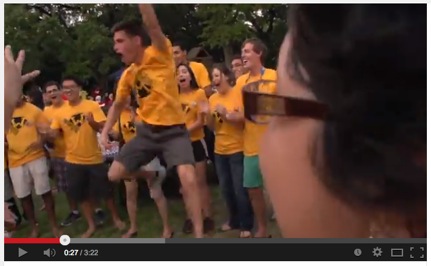 Mike Schubert came to Rice to study engineering but he also made sure his college experience was fun, both for himself and the people around him, by doing a lot of extracurricular activities. The former self-described unpopular high schooler probably exemplifies why Princeton Review continually ranks Rice high for "The Happiest Students" and "Best Quality of Life."

Jessica Kuster: The star player
Video: https://www.youtube.com/watch?v=-aXoyU9tulE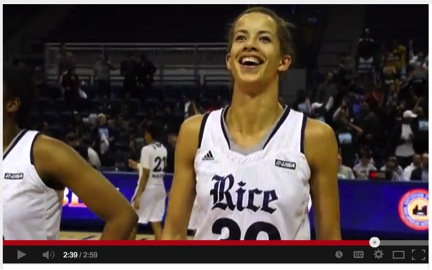 Senior forward Jessica Kuster forever etched her name in Rice women's basketball lore during the 2014 season by surpassing Pat Krieger's 32-year-old all-time scoring record.
Kuster holds many more records at Rice, but one of her proudest accomplishments as an Owl is a touching story that didn't even happen on the court; it was the encouragement of a teammate to stay the course for her economics degree.

Allison Garza: From Legos to a career
https://www.youtube.com/watch?v=HgTQcXXLThA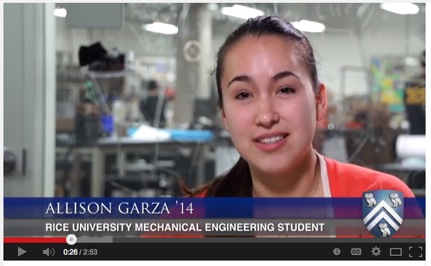 Allison Garza turned a childhood love of building things with Legos into a college degree in mechanical engineering. Garza first applied to Rice to study architecture but then decided she wanted to design cars, so she became president of Rice's solar car team as a sophomore. The team won second place at the Shell Eco-marathon that year. While cars were interesting, Garza switched gears again after taking an engineering class, where she designed a specialized mechanical wheelchair for a boy who had strength challenges due to his affliction. At that point, Garza knew that she wanted to do medical design work that will impact people's lives. After graduation, Garza will join GE Health Care.

Susannah Eig: Theater forever
Video: https://www.youtube.com/watch?v=2T6hnXG0JnI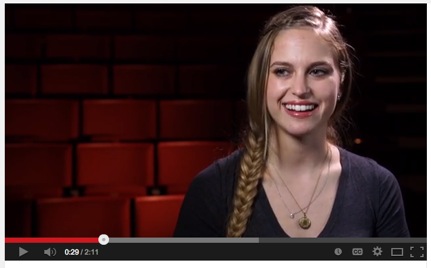 Susannah Eig, an English and Visual and Dramatic Arts major, came to Rice knowing exactly what she wanted to do: act. And within two weeks of coming to Rice, Eig became active in the theater department. She helped lead a special outdoor presentation of Shakespeare's "A Midsummer Night's Dream" at Rice. And this past year, Eig has been the host of  "Inside Rice," a 30-minute show produced by the university for the Houston Independent School District's cable channel. Eig just wrapped her final episode, and you can see her hosting the show here.
Soorya Avali: Engineer turned photographer
Video: https://www.youtube.com/watch?v=CPzyv7qoXH0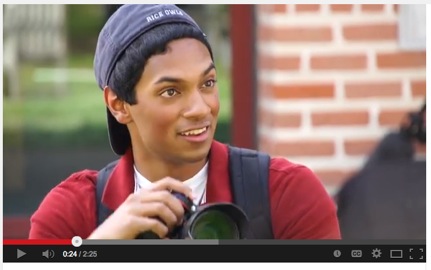 Soorya Avali turned an $800 outstanding freshman award into a lifetime passion. He bought his first camera with the windfall and three years later it has resulted in thousands of images of Rice University and his classmates. All this from a materials science and engineering major who didn't take his first photography class until his junior year.
Nathan Liu: Giving back
Video: http://youtu.be/vyHTaPGe3VU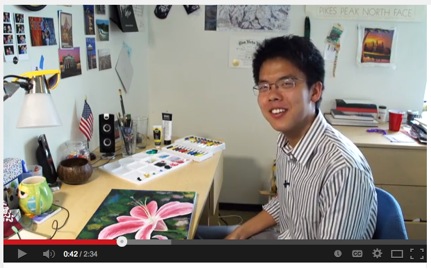 Rice senior Nathan Liu believes in giving back to the community he feels has given him so much. Liu is leaving his mark inside and outside the hedges at Rice University before he begins his Fulbright U.K. fellowship. He is volunteering at a Houston-area hospice, and in his spare time the bioengineering major, who is also an artist, is giving away his paintings to people who have helped him during his journey.
-30-
Follow Rice News and Media Relations on Twitter @RiceUNews.
Located on a 300-acre forested campus in Houston, Rice University is consistently ranked among the nation's top 20 universities by U.S. News & World Report. Rice has highly respected schools of Architecture, Business, Continuing Studies, Engineering, Humanities, Music, Natural Sciences and Social Sciences and is home to the Baker Institute for Public Policy. With 3,920 undergraduates and 2,567 graduate students, Rice's undergraduate student-to-faculty ratio is 6.3-to-1. Its residential college system builds close-knit communities and lifelong friendships, just one reason why Rice has been ranked No. 1 for best quality of life multiple times by the Princeton Review and No. 2 for "best value" among private universities by Kiplinger's Personal Finance. To read "What they're saying about Rice," go here.